Customer has hot wax dropped on her right eye while manager argues with another patron. She settles for $400,000.
---
61-year-old Gail Gianpalo of Monroe, Connecticut had hot wax dropped in her eye at now-closed beauty spa.  Her attorney said his client has settled a subsequent lawsuit against Fairfield Day Spa for $400,000, adding that his client "now suffers from blurred vision and other permanent eye injuries from a botched eyebrow wax and incurred about $4,700 in medical expenses.  Her eye also became infected after the incident."  The settlement was reached with the help of a meditator, retired Superior Court Judge Michael Riley.
According to court documents, Gianpalo went the spa in July 2016 to get her eyebrows waxed, and while the salon's manager, Kevin Phan, was applying wax to her eyebrows, he got into an argument with another customer and dropped hot wax into her right eye.  The incident lead to "a central corneal ulcer, stromal scar, corneal abrasion and a slew of painful and permanent injuries," according to her lawsuit filed shortly after.
"Another customer confronted him, and they got into an argument," said Gianpalo's attorney Frank Bailey. "As he was arguing with the customer over an unrelated issue, the wax dropped in my client's eye as he was attempting to do the eyebrow."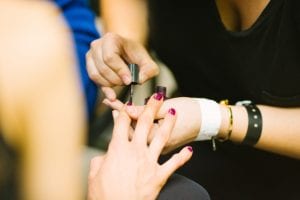 Bailey added this has caused years of distress for his client, who has a deep scar in her cornea. "Because of that scar, my client's eye is painful and often tearful," he said. "It is also sensitive to light.  If she looks at a streetlight in the dark, for example, it appears as broken glass…The only way Gianpolo's eye could return to normal is if she underwent a corneal transplant."
The defense offered $90,000 to settle the case, while Bailey originally sought $750,000.  He believes an independent medical examination by Dr. Aaron Rose, a Connecticut ophthalmologist and professor at Yale University School of Medicine, helped their case, because it revealed 50- to 60% permanent partial impairment of Gianpalo's right eye.
In court pleadings, the defense, led by attorney Pamela LeBlanc, argued Gianpolo "would have to prove injury," and alleged the plaintiff had provided insufficient evidence.
A quick search of the spa's social media pages shows clearly that other customers also had negative experiences, primarily with nail services, at the now-defunct spa.
One visitor commented: "Worst manicure experience.  The women rushed, and once I had explained to her I was not satisfied she refused to fix the problem.  Not only did my nails look terrible there was old polish still left on, my cuticles were not cut nor pushed back, and my nails were not filed down properly.  This salon is poorly ran…"
Another said, "The worst experience ever.  From the beginning the woman was under the impression I couldn't afford my nails.  I explained to her I wanted a full set with Gel polish.  She stated gel is an extra $15 which I considered cheap and her response was 'you have?' which was rude.  She proceeded to do my nails which were horrible…After she twisted my thumb purposely, I asked if someone else could finish as she must've had a horrible day and I became her victim.  She begins to say, 'YOUR people never have money anyway, I fixed your nails twice if you don't like it you can leave.'  My daughter is a loyal customer as well as my mom but after that incident I refuse to spend another penny in that place.  HORRIBLE!!!!!"
Sources:
Woman who had hot wax dropped in her eye settles lawsuit for $400K
Woman wins $400,000 settlement for spa mistreatment
Ouch! Woman Settles Suit for $400,000 After Beautician Drops Hot Wax in Her Eye