Delaware's innovative addiction programs are honored at a recent conference.
---
The state of Delaware has the fifth-highest overdose rate in the nation.  State legislators are working toward "increasing access to treatment; expanding prevention programs; and offering wraparound services such as stable housing."  To recognize some of these efforts, the national nonprofit Addiction Policy Forum has honored eight Delaware innovative addiction programs.
"We wanted to go on the ground in those states and find out who is doing amazing, effective, innovative things to turn this around," said Kimberly Clapp of Addiction Policy Forum.  "So, the idea is, we point out the amazing people and programs in law enforcement, child welfare, medicine, and scale those ideas, and programs and people up for the country to learn from.  Other states will say, 'Oh, Safe Stations from Manchester, New Hampshire, we want to bring that to our community.'"
One of the Delaware programs honored was Hero Help which was founded by the New Castle County Police Department and offers treatment instead of arresting addicts.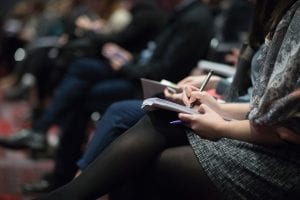 "I think that's a program a lot of communities across the country would like to adopt to say, 'Why can't our police department be a place where, 24/7, you can walk in and be connected to treatment?'" Clapp said.
Project Engage, run by Connections and Christiana Care, also made headlines.  Connections CEO Cathy McKay illustrated the plan by referencing an example of a patient in withdrawal who might complain of back pain hoping to get an opioid prescription.  Program peers who are recovered or recovering from addiction would step in to discuss treatment options.
"If someone is brought in…for an overdose, you have a very short window of time," McKay said. "If they're overdose has been reversed by Narcan, they're in withdrawal.  If you can get them to agree they're ready to start medication right then for their addiction and get them somewhere that medication is available, they're not going to have to back out and use again."
The program recently added 24/7 an emergency room presence and is also involved with the program New Expectations — a court diversion program for pregnant women who are addicted.  This program currently has a 100% success rate and received praised at the Addiction Policy Forum.
"They were sending them to jail or prison because they were pregnant and using drugs, not because they had an offense that required that, but because they didn't want the baby to be hurt by the drug use," McKay said.
But babies born in prison are automatically separated from their moms.  This causes long-term trauma.  Connections offers an alternative to prison that allows woman to give birth in a hospital, move into a home and live there until they recover and can get a job and housing.  They would still fulfill their probation requirements.
"They're grateful because they know the situations they were in and have lost children previously to their drug addiction," said Diane Tisdel, New Expectations program director.  "So, they get treatment, they're able to keep their babies, they can work. It's a life they're not used to living, so they're very grateful, and it's very rewarding to them."
Hope Street, which began in 2016 to push for community-based holistic care for addiction and to offer peer support, also was honored, along with atTAck Addiction, Wilmington HOPE Commission Winner's Circle, Delaware Prevention Coalition, and Delaware Substance Use Treatment and Recovery Transformation.
Sources:
Eight Delaware programs honored for innovative efforts to curtail opioid epidemic