ATMs trend to be targets for criminals for many reasons, including giving them 'too much cash.'
---
ATM machines seem to be targets for criminal activity.  Take the one in Murrieta, California for example.  45-year-old convicted felon Jalale Jamone Love tried to haul the machine away with the help of another teenaged suspect and subsequently pleaded guilty in December to burglary, vandalism, and receiving a stolen vehicle.  He was sentenced this month to one year of mandatory supervision for destroying property in lieu of a jail sentence.
Riverside County Superior Court Judge Stephen Gallon, appointed by Republican Governor Arnold Schwarzenegger in 2009, also ordered Love to remain gainfully employed or enrolled in vocational program for the duration of his mandatory supervision.  The 17-year-old boy who acted as Love's accomplice was not identified.   When officers arrived on the scene, they spotted a U-Haul truck with a chain extending from the back end into the store.  They pulled up just as a van sped away, prompting the officers give chase and signal the driver to stop.  Love was at the wheel.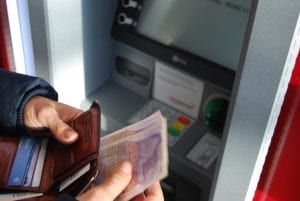 "After reviewing the surveillance video, it was discovered that the four subjects had been attempting to steal the ATM machine from inside the store," a lieutenant said. "After two failed attempts, all four subjects fled the store."
That certainly wasn't the only time an ATM has been targeted and destroyed.  And, it would be one thing if someone got upset over an ATM machine shorting them during a transaction.  Yet, even if it did, the person retrieving the funds would likely report the faulty device rather than destroying it.  But, beating up the machine for dishing out too much money?
23-year-old Michael Joseph Oleksik of Merritte Island was recently arrested for criminal mischief after he told police he punched an ATM because "it gave him too much cash."  He was taken into custody on the spot after bank officials said destroying the device caused at least $5,000 in property damage.
Authorities said Oleksik can be seen on surveillance video standing in front of the ATM, punching the touch screen.  Shortly afterward, he called the bank and told a manager that he punched it because he was "angry the ATM was giving him too much money and he did not know what to do," according to police records.  In a supposed effort to justify his actions, Oleksik also explained he was in a hurry to get to work and apologized for the damage.  Wells Fargo contacted the Cocoa Police Department and asked to press charges.  Oleksik ultimately booked into the Brevard County Jail Complex in Sharpes.
In another strange ATM incident that occurred back in 2017, Brandon Blaylock, then 35 years old, was taken into custody after police officers indicated he used a tire iron to strike a machine that did not return his debit card.  Officers responded after a call from a witness reported Blaylock grabbed his weapon when the ATM malfunctioned and displayed an error message.
"Mr. Blaylock then became enraged, exited the vehicle and retrieved a tire iron out of his trunk," according to the affidavit. "He then walks over to the ATM and strikes it with the tire iron jamming it into the card reader area of the ATM.  (He) then began twisting the tire iron around in the machine breaking the card reader."
Blaylock was charged with one count of attempted burglary, vandalism less than $1,000 and possession of burglary tools.
Of course, destroying property is never a good solution.  It's an all-around better option to report an issue instead.
Sources:
Man Who Tried To Steal SWR Cash Machine Sentenced
Florida man challenge: Memorable videos, headlines, weird news from Sunshine State
Man beats ATM, says it gave too much cash, Cocoa police report