Tyler Wingate was beaten to death after a car accident in July. After a manhunt, the suspect has been arrested.
---
Lawrence James Davis, 24, has been taken into custody by Detroit Police and charged with the death of a Berkley High School graduate of the same age following a car accident.  The former Berkley student, Tyler Wingate, was beaten to death following a July 22 crash.  Davis was arrested at an apartment building on West 8 Mile and has been charged with homicide.
According to prosecutors, Wingate and his passenger were driving northbound on Livernois Avenue after 1:00 a.m. when they were involved in a collision.  Davis was at fault but attacked Wingate in a fit of rage and he was severely beaten.
"It's wrong and anything like it is wrong," Police Chief James Craig said. "It's just too much of this kind of violence."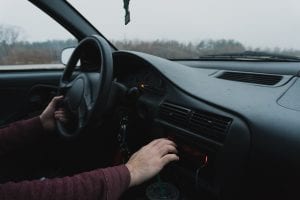 Authorities said Wingate and his passenger got out of the vehicle after the incident and walked into a gas station parking lot where Wingate was suddenly punched, knocking him to the ground.  Davis continued to punch and kick him before fleeing with three others.  Police found Wingate lying on the ground unresponsive.  He died of blunt force trauma to his neck and head.
Craig said a number of community members gave police information about Davis – that he was on the run and moving around to different locations.  They looked into every lead called in until they were able to track him down.  He revealed Davis has a history of violence dating to when he was just fifteen, and he didn't have a driver's license but had a lengthy driving record with suspensions dating to 2014.  There didn't appear to be any prior connection between Wingate and Davis.
Wingate's mom, Sharlee, said Tyler lived in the Boston Edison district of Detroit and was proud to be a 2013 graduate of Berkley High.  He had worked at Wolverine Packing Co. in Detroit for four years, where his father also works.
"He had faith in the city of Detroit she said, adding, "He was a great guy.  He's a lover, not a fighter."
"It's heartbreaking," Berkley Mayor Dan Terbrack stated. "No parent should ever have to face this type of tragedy.  I know the entire community is sending prayers and condolences to the Wingate family."
"It's really shocking," echoed Amici's Pizza & Living Room owner Maureen McNamara, who has operated her business in Berkley with co-owner Jennifer Stark for the past fifteen years.  "I think the whole community is at a loss."
Wingate's family held a press conference in front of Berkley High School where Tyler was a well-known and well-liked student.
Diane Brus of Berkley said Wingate went to elementary school with her son. "There was never, ever a time in my life when he didn't give me a hug," she said. "He was always that kid that made you laugh and smile.  He had that zest for life."
His brother, Jason, said the family doesn't want revenge, but justice.  "Tyler wouldn't want us to be sad," he said, recalling a time when Tyler once told him that if he were to die unexpectedly, "don't mourn my death, but celebrate my life."
Sources:
Berkley mourns former H.S. athlete beaten to death after car crash in Detroit
Police: Suspect arrested in beating death of Berkley H.S. graduate