Disney claims that Florida Gov. Ron DeSantis has launched a political war against Disney, seeking to punish the company for its opposition to the state's controversial "Don't Say Gay" law.
---
The Walt Disney Co. has filed a lawsuit against Florida Gov. Ron DeSantis, alleging that the Republican politician waged a "relentless campaign to weaponize government power" against the company for opposing a controversial piece of legislation.
According to CNBC, the lawsuit, filed in federal court, alleges that Gov. DeSantis "orchestrated at every step" a multi-pronged campaign to punish Disney and damage the company's interests.
The lawsuit, writes CNBC, is a significant escalation in the long-running feud between Disney and DeSantis.
Florida and Disney began butting heads in 2022, after Disney announced its opposition to a Florida bill restricting classroom discussion of topics including sexual orientation and gender identity. Critics of the bill have derided the legislation as the "Don't Say Gay [Act]."
Gov. DeSantis retaliated by trying to dissemble Disney's special tax district—an agreement that lets Disney pay for local maintenance and infrastructure, in exchange for maintaining effective self-governance.
Disney filed its complaint on the same day that the district's board of supervisors—appointed by Gov. DeSantis to seize control of the company's Florida operations—tried to rescind a development deal that would have let Disney retain its unusual dominion.
Attorneys for the Walt Disney Co. have called this attempt at recission the "latest strike."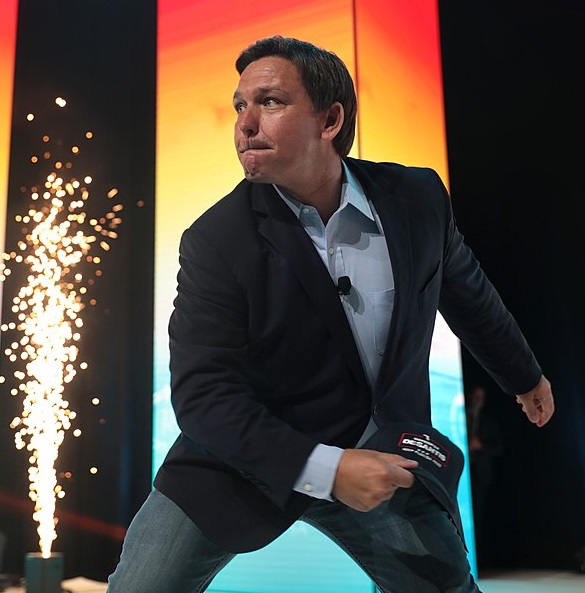 In its complaint, Disney said that the development contracts "laid the foundations for billions of Disney's investment dollars and thousands of jobs."
"The government action was patently retaliatory, patently anti-business, and patently unconstitutional," Disney wrote in its lawsuit.
"Disney regrets it has to come to this," the company's parks division wrote.
"But having exhausted efforts to seek a resolution, the company is left with no choice but to file this lawsuit to protect its cast members, guests, and local development partners from a relentless campaign to weaponize government power against Disney in retaliation for expressing a political viewpoint unpopular with certain state officials," it added.
Disney is asking the federal court to find that the board of supervisors' actions are unlawful and unenforceable.
Taryn Fenske, communications director for Gov. DeSantis's office, said that Florida is simply trying to hold Disney to the same standard as other companies operating in the Sunshine State.
"We are unaware of any legal right that a company has to operate its own government or maintain special privileges not held by other businesses in the state," Fenske said.
"This lawsuit," Fenske added, "is yet another unfortunate example of their hope to undermine the will of the Florida voters and operate outside the bounds of the law."
Sources
Disney sues Florida Gov. Ron DeSantis, alleges political effort to hurt its business