Attorneys say that Disney was negligent in designing its 5-story high "Humunga Kowabunga" waterslide, causing a visitor to suffer an extreme "wedgie" resulting in serious internal injuries.
---
Walt Disney Parks and Resorts is facing a lawsuit relating to an "injurious wedgie" suffered by a woman riding a 214-foot water slide in park's Typhoon Lagoon.
According to CNN, the lawsuit describes an incident that allegedly occurred on October 14, 2019, on the Humunga Kowabunga water slide.
Both plaintiffs, identified by CNN as Emma and Edward McGuiness, were spending a two-week vacation at the resort in celebration of Emma's 30th birthday.
The slide, which rises hundreds of feet into the air, is described in the complaint as a "near-vertical, 5-story drop," much of it in the dark. At the end, riders are plunged into a pool of water.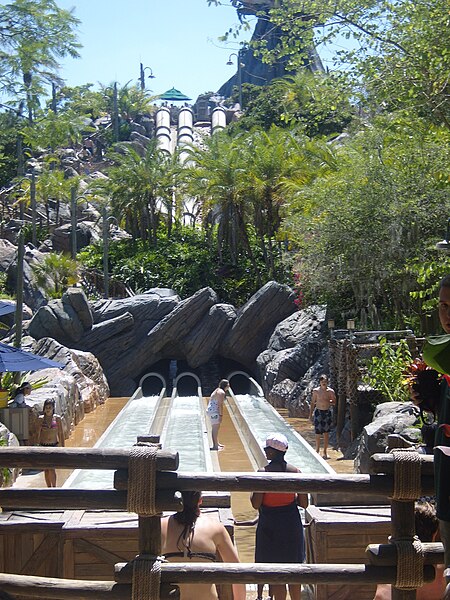 Attorneys for the couple say that Disney knew, or should have known, that its ride could cause "wedgies."
"Specifically, when a rider of The Slide reached the bottom of the ride and traveled into the pool of water designed to stop further travel, the force of the water can push loose garments into a person's anatomy—an event known as a 'wedgie,'" says the lawsuit, which was filed last week in Circuit Court for Orange County, Florida. "Because of a woman's anatomy, the risk of a painful 'wedgie' is more common and more serious than it is for a man."
The complaint broadly alleges that Disney "was negligent and breached its duties of reasonable care" in failing to provide Humunga Kowabunga riders with protective clothing, and for failing to warn riders of the risks of injury.
Emma McGuinness had, for instance, followed existing ride procedures, but became "airborne" at the end of the ride. She slid into side of the slide, "which increased the likelihood of her legs becoming uncrossed or otherwise exposing herself to injury."
While Disney proponents have latched onto the use of the word "wedgie" to deride the lawsuit, attorneys emphasize that Emma appears to have suffered serious and significant injuries. She experienced severe internal pain, and had to be transported to a local hospital as blood poured from between her legs.
Court documents indicate that the woman likely sustained "severe and permanent bodily injury" as a result of the accident, as well as "damage to her internal organs."
Attorneys are also seeking damages for "loss of consortium" on behalf of Emma's husband.
"As a direct and proximate result of Disney's negligence as described above, Edward McGuiness has suffered loss of his wife's care, comfort, consortium, support, and services," the lawsuit notes.
Both Emma and Edward McGuiness are seeking "damages exceeding $50,00, exclusive of interest and costs."
Sources
Couple suing Disney World claims water slide caused 'painful wedgie,' severe injury
Disney sued over 'severe' injuries allegedly caused by 'wedgie' from water slide