In one private exchange between Fox hosts Tucker Carlson and Lara Ingraham, the two personalities bemoaned how "insane" several prominent, pro-Trump conspiracy theorists had acted.
---
Dominion Voting Systems has submitted evidence to a Delaware court suggesting that many Fox News personalities aired election conspiracy theories that they knew were almost certainly false, deriding and ridiculing them in private.
According to The Hill, text messages, emails, and testimony contained in the filing show that Fox's top executives and most popular hosts had obvious doubts about former President Donald Trump's allegations that the 2020 presidential election had been stolen by Democrats.
Nevertheless, several Fox figures eagerly maintained the narrative, going so far as to question whether the network's reporters should even fact-check the White House's controversial claims.
Dominion, writes The Hill, is currently suing Fox for defamation—and seeking an estimated $1.6 billion in damages, alleging that the conservative media network knowingly aired false information.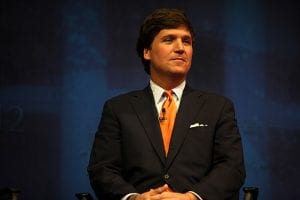 During the 2020 presidential election, Fox News—along with other right-leaning networks—reiterated Trump's claims that Dominion, along with other voting technology companies, had somehow manipulated ballots to favor then Democratic-candidate and current President Joe Biden.
Dominion's filing includes text messages and emails shared between Fox's most prominent personalities.
Many of the messages, says The Hill, show Fox hosts like Tucker Carlson and Lara Ingraham insulting pro-Trump figures like Sidney Powell and Rudy Giuliani.
"Sidney Powell is lying by the way," Carlson wrote in a message to Ingraham. "I caught her. It's insane."
"Sidney is a complete nut," Ingraham allegedly responded. "No one will work with her. Ditto with Rudy."
However, while Fox hosts may have privately ridiculed conspiracy theorists, they railed against network journalists who questioned the company's increasingly conspirational reporting.
"Please get her fired," Fox host Sean Hannity wrote after seeing White House correspondent Jacqui Heinrich fact-check a dubious tweet by then-President Trump. "Seriously […] what the fuck? I'm actually shocked… It needs to stop immediately, like tonight. It's measurably hurting the company. The stock price is down. Not a joke."
Fox News, however, has aggressively maintained that it did nothing wrong—and that Dominion's lawsuit is, in fact, an unconstitutional effort to censor and chill the press.
"Some hosts viewed the president's claims skeptically; others viewed them hopefully," Fox attorneys wrote in one court filing. "All recognized them as profoundly newsworthy."
Fox also pushed back against Dominion's damages request, saying that a company Dominion's size could not have possibly suffered hundreds of millions of dollars in damages.
"Dominion could not possibly suffer damages in that amount," Fox attorneys wrote. "Let alone suffer such damages because of a single press outlet's coverage of a story that was reported by media throughout the world."
Sources
Five top revelations from Dominion's explosive court filing in Fox News lawsuit
The 'wackadoodle' foundation of Fox News' election-fraud claims