Attorneys for the Sicknick estate claim that Trump effectively encouraged rioters to enact violence within and without the U.S. Capitol building.
---
The estate of the late Brian Sicknick, a Capitol Police officer who died in the January 6 riots, has filed a lawsuit against former President Donald Trump and two other officials accused of encouraging protesters to storm government offices.
According to CNN, the civil lawsuit was filed Thursday in federal court, one day before the second anniversary of what many have termed an attempted insurrection.
"As Officer Sicknick and hundreds of others—including other police officers, elected officials, and rank-and-file workers at the Capitol—were put in mortal danger, and as the seat of American Democracy was desecrated by the insurgent mob, Defendant Trump watched the events unfold on live television from the safety of the White House," attorneys wrote in the complaint. "The horrific events of January 6, 2021, including Officer Sicknick's tragic, wrongful death, were a direct and foreseeable consequence of the Defendants' unlawful actions."
The lawsuit broadly levels charges of conspiracy, negligence, and assault against the named defendants.
Attorneys for Sicknick and his partner, Sandra Garza, noted that Trump instructed his supporters to "fight like hell" and "show strength."
"Defendant Trump intentionally riled up the crowd and directed and encouraged a mob to attack the U.S. Capitol and attack those who opposed them," the lawsuit alleges.
Lawyers believe that Trump's supporters tacitly "understood" the former president's instructions as a call for violence.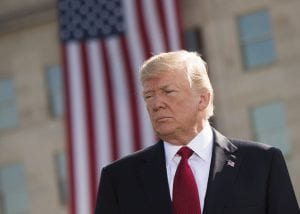 Former President Donald Trump, like many other prominent Republican officials, spread and repeated unfounded rumors that the 2020 general election had been "stolen" by Democrats and election technology companies.
To date, there is no compelling evidence that any such conspiracy existed.
CNN reports that two convicted rioters, Julian Khater and George Tanios, are named as co-defendants in the lawsuit.
During the Capitol riots, Khater retrieved "bear spray" from Tanios's backpack, which he used to spray Sicknick and other officers.
In the ensuing chaos, protesters forced their way past Sicknick and other Capitol police officers, after which they vandalized, ransacked, and temporarily occupied the United States Capitol building.
Shortly after the riots, Sicknick suffered multiple strokes.
While a coroner found that Sicknick died from "natural conditions," medical examiner Francisco Diaz told The Washington Post that "all that transpired" during the riots "played a role in [Sicknick's] condition."
"Sicknick died in the line of duty, courageously defending Congress and the Capitol," the United States Capitol Police said in a statement issued after Sicknick's death.
NBC News reports that a spokesperson for former President Donald Trump did not respond to a request for comment.
Sources
Trump accused in lawsuit of causing wrongful death of Officer Brian Sicknick in US Capitol attack
Trump and 2 others sued over death of Capitol Police Officer Brian Sicknick after Jan. 6 riot