Scalia spent years as a lobbyist in Washington, often defending corporations from workers' claims and lawsuits.
---
Eugene Scalia, President Donald Trump's top choice to head the Labor Department, faced a harsh round of questioning from Democrats on Thursday.
Scalia, notes The Washington Post, spent years as a corporate lobbyist. In D.C., he spent much of his career pushing back against federal regulators and defending big-money clients against workers' lawsuits.
Trying to reassure lawmakers, Scalia said—if confirmed—he'll ask ethics officials to determine whether he can participate in the creation of conflict of interest rules for stockbrokers. That's because, as a private-sector attorney, Scalia helped undo a round of Obama-era rules governing how financial professionals can advise clients on retirement planning and long-term investment.
During testimony before the Senate Health, Labor and Pensions Committee, Scalia repeatedly said he wouldn't let his corporate advocacy influence his actions in the Cabinet. And, as The Associated Press reports, Scalia emphasized the "public trust" he earned as a Labor Department lawyer in the George W. Bush administration.
"I'm not necessarily my clients," Scalia said. "I will seek to defend them, to vindicate their rights but that doesn't mean that I necessarily think what they did is proper."
However—and as the A.P. points out—Scalia's offer to recuse himself from 'Labor's fiduciary rulemaking' is a reminder that he's spent most of career looking out for big business.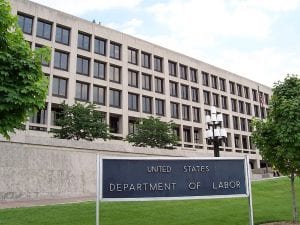 "We just need to look at the argument he's made in court and what he's advocated for," Micah Hauptman, financial services counsel at the Consumer Federation of America, told The Associated Press. "That counts more than what he said in a job interview."
At any rate, it doesn't appear Scalia's assurances have done much to appease Democrats. Health, Labor and Pensions' ranking liberal leader, Sen. Patty Murray (D-WA), called the nominee "an elite corporate lawyer who has spent his career fighting for corporations and against workers."
"Instead of nominating someone who understands the challenges working people face and will fight for them, President Trump has chosen a powerful corporate lawyers who has devoted his career to protecting big corporations and CEOs from accountability and attacking workers rights protections and economic security," Murray said. "If there's one consistent pattern in Mr. Scalia's long career, it's hostility to the very workers he would be charged with protecting and the very laws he would be charged with enforcing if he were to be confirmed."
Nevertheless, conservatives haven't been as hesitant. Committee chairperson Sen. Lamar Alexander (R-TN) pointed out that many attorneys have represented heinous clients.
"There are certain ethical responsibilities lawyers have, but you represent people who have a right to be heard, to get just before the bar," Alexander said.
But that's not all the controversy for Scalia. As The Washington Post explained Thursday, he's also come under fire for being anti-gay. That's because, back in the 1980s, Scalia penned a college op-ed saying gay parents are "in conflict with the traditional organization of society" and shouldn't be treated "as equally acceptable or desirable as the traditional family."
Scalia, of course, says he's changed since then—and even believes it's wrong for employers to terminate workers based on sexual orientation or identity.
"I would not write those words today," Scalia said, "in part because I expect I now have friends and colleagues to whom they would cause pain."
Sources
An ex-lobbyist is Trump's pick for labor secretary. Democrats found anti-gay op-eds he wrote in college.