Security guard Johnathan Cromwell, Citywide Protection Services, Inc., and Riverwalk Community Association, Inc. were recently named in a lawsuit filed by the family of Jiansheng Chen in connection to his 2017 death.
---
The family of Jiansheng Chen, a 60-year-old Chesapeake man, filed a wrongful death lawsuit against Johnathan Cromwell, a security guard, Citywide Protection Services, Inc., and Riverwalk Community Association, Inc. Back in 2017, Chen was playing Pokémon Go when he was killed by Cromwell, an armed security guard. The family is seeking $5 million in compensatory damages and $350,000 for punitive damages.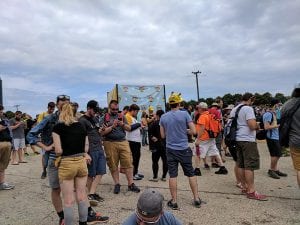 The fatal incident happened on January 26, 2017, around 11 p.m. Prior to the shooting, Chen was driving in his car, playing the popular game. According to his family, he didn't know English and was attempting to leave the area right before the incident occurred. However, during court proceedings, Cromwell and his defense team maintained he shot Chen in self-defense because he thought Chen "planned to use his vehicle to hit Cromwell."
Chen's family is pushing back against Cromwell's claims, though. According to the suit, "Cromwell used negligent and excessive force in an attempt to detain and then unjustifiably used deadly force." The family also argues that Chen was wrongfully killed and said the security company "hired someone that was neither competent nor fit to perform the duties of an armed security guard." The suit further states that Cromwell is "dangerous, aggressive, erratic, careless and has a violent nature."
In addition, Chen's family also accuses Citywide of failing to use proper judgment when hiring Cromwell and argues that the Riverwalk Community Association failed to keep the area safe.
In response to the family's lawsuit, Andrew Sacks, Cromwell's attorney, issued the following statement:
"The incident in question occurred over 2 years ago. This suit was filed on the second to the last day of the applicable statute of limitations for doing so, and just a shade over 3 weeks before this major criminal trial. The suit alleges against Mr. Cromwell a wrongful death and further alleges that Mr. Cromwell used excessive force against Mr. Chen. These accusations against Mr. Cromwell have been denied by him since day one. To the contrary, his position has been unwavering-that his actions that night were solely taken in self-defense of his life. Self-defense utterly undermines the whole premise of the suit and renders it without merit."
Pokémon Go is an augmented reality mobile app game played on iOS and Android devices. It was very popular a few years ago among people of all ages and is played using your phone's GPS to locate capture, battle, and train virtual creatures.
Sources:
Family of man killed in Chesapeake Pokémon Go shooting files wrongful death lawsuit
Pre-trial Thursday for Chesapeake security guard charged with murder of man playing Pokemon Go