Boggs Tract Church is at the center of a lawsuit alleging it mishandled the remains of Lamark Day.
---
In September 2018, Angela Hale suddenly lost her 25-year-old son-in-law, Lamark Day. Now, she is filing a lawsuit against the funeral home that prepared Day's body over allegations that the funeral home mishandled his remains.
When commenting on the tragic incident, Hale recalled accompanying her grieving daughter, Ebony Day, "to Boggs Tract Church to make funeral arrangements." According to the suit, Boggs Tract Church shared "space with a funeral home operating beneath the well-known Cooley banner." However, during the funeral planning process, Hale claims things quickly took a horrifying turn. On September 10, 2018, she and her daughter sat down with Pastor Steve Cooley and an employee at the funeral home, Jason Watkins. Hale claims that during the meeting Watkins said, "we have some bad news. The tissue gas caused the body to swell."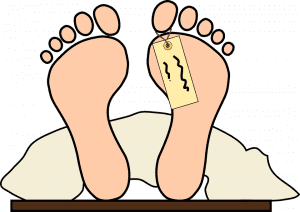 Hale responded, "'OK, you're thinking just a little swelling, puffiness," to which Watkins said, "no, I don't think you guys can have a service because the tissue gas really caused it to swell really bad."
The next day, Hale and her daughter viewed Day's body. According to the suit, the body emitted an "utterly ridiculous odor" and his skin was allegedly breaking apart.
Nine months have passed since their ordeal, and now Hale and her daughter are moving full force with a lawsuit over what Day claims was the "mishandling of the corpse of her late husband." When commenting on the case, attorney Allen Sawyer said, "it's horrific what they've experienced. There was such negligence or intentional failure of the funeral home to adequately prepare and store the body. The body was decomposing in such a horrific way, it made the viewing impossible."
This isn't the first time the Boggs Tract facility has been in hot water, though. Just last month, the facility was investigated by the state Cemetery and Funeral Bureau. According to the findings, "numerous violations concerning the mishandling of bodies" were uncovered and it was discovered the facility was operating without a license. For example, one investigator said they allegedly found a "body that had not been embalmed on a table in an unrefrigerated room."
Lamark Day suddenly passed away last September when he suffered a seizure in his sleep. He had suffered from random seizures throughout his life, ever since he was in an accident when he was five-years-old. Tragically, when he had his September seizure, doctors weren't able to revive him.
When commenting on the suit, Hale said she has "taken it upon herself to see justice is done and to see that other families don't have to endure a similar experience." She added:
″(Lamark Day) had to suffer in life dealing with seizures. To get to death and this be what death looks like for him … I just want him to know that I'm going to be there for you till the end, and not let anybody take advantage or hurt you anymore."
Sources:
Family prepares lawsuit against funeral home for mishandling of loved one's remains
ABC12 Investigates: Claims of mishandling remains at Flint funeral home