Parents allege priest used son's funeral as an opportunity to preach about suicide.
---
The mother of a Michigan teenager who committed suicide filed a lawsuit against the Archdiocese of Detroit for alleged "harm she suffered during his funeral when a priest questioned whether her son would go to heaven."  The lawsuit was filed in Wayne County on behalf of the boy's mother, Linda Hullibarger and her husband, Jeff, from Temperance, and names the archdiocese, Our Lady of Mount Carmel Parish, and the Reverend Don LaCuesta.
Hullibarger and her husband said they met with LaCuesta at Our Lady of Mount Carmel Catholic Church to plan funeral services for their 18-year-old son, Maison.  They asked for an uplifting message, but LaCuesta allegedly "turned his Dec. 8, 2018, homily instead into a message regarding suicide."  The lawsuits states that he used words that hurt deeply, including that the boy might be "blocked from heaven" because he ended his life.  The family is asking that priest be removed from the church altogether.
"Everybody seems to understand but the Catholic Church," said Jeff Hullibarger, father of 18-year-old Maison.  He said his son was "a straight-A student and outstanding athlete.
"We wanted [LaCuesta] to celebrate how Maison lived, not how he died," Maison's mother said.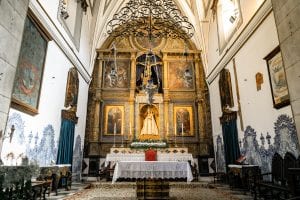 Instead he treated it as if "it was his time to tell everybody what he thought of suicide, [and] we couldn't believe what he was saying," Maison's father said. "He was up there condemning our son, pretty much calling him a sinner.  He wondered if he had repented enough to make it to heaven.  He said 'suicide' upwards of six times…There were actually a couple of younger boys who were Maison's age who left the church sobbing."  Hullibarger added he walked to the pulpit and whispered to the priest, "Father, please stop," but LaCuesta "continued with statements denouncing the way their son's life ended."
He said he and his wife were also put off by the presence of Maison's football coach at the funeral, who they allege bullied their son.  Hullibarger said he specifically requested through a friend that coach Jeffrey Wood not attend the funeral.  When he arrived, he was asked to leave.
Hullibarger said, "People told me there was almost a smirk on his face."
The church shared the following statement: "We share the family's grief at such a profound loss.  Our hope is always to bring comfort into situations of great pain, through funeral services centered on the love and healing power of Christ…Unfortunately, that did not happen in this case. We understand that an unbearable situation was made even more difficult, and we are sorry…After some reflection, the presider agrees that the family was not served as they should have been served.  For the foreseeable future, he will not be preaching at funerals and he will have his other homilies reviewed by a priest mentor.  In addition, he has agreed to pursue the assistance he needs in order to become a more effective minister in these difficult situations.  We have been in contact with the family since learning of this situation, and we will continue to offer our support going forward."
Sources:
Michigan couple: Priest, 'bully' coach ruined our son's funeral
Mom sues Archdiocese of Detroit, priest over son's funeral service