Federal investigators are cracking down on cybercriminals active on the allusive dark net.
---
The Federal Bureau of Investigation (FBI) has seized the dark web index and news site Deep Dot Web, according to a warning notice posted on the site.  The dark web site has also been taken down and replaced with a similar notice.  The agency seized the website with a warrant, working with computer crime investigators and European law enforcement.  Two people in Israel were arrested and authorities have also reportedly taken people in France, Germany, the Netherlands, and Brazil into custody.  The individuals are accused of taking commissions to send visitors to businesses offering illegal goods.
Deep Dot Web provided links to underhanded marketplaces.  Goods available for purchase included weapons, drugs and other contraband, according to authorities.  The site also referred visitors to which dark net sites where they could buy stolen credit card information.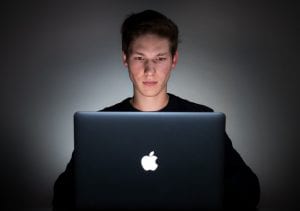 European and American investigators announced they had broken up "one of the world's largest online criminal marketplaces for drugs, hacking tools, and financial theft wares in raids in the United States, Germany and Brazil."  Three German men, ages 31, 22 and 29, were arrested after the raids on allegations they operated the "Wall Street Market" dark net platform, which hosted about 5,400 sellers and more than 1 million customer accounts.  A Brazilian man was also charged, as well as two individuals operating out of Los Angeles.  Finnish law enforcement officers seized another marketplace known as Silkkitie or Valhalla.
A Department of Justice release states that Wall Street Market's owners "had been trying to leave the business after receiving heightened scrutiny and an influx of new users, likely due to the shutdown of Dream Market, which was previously the largest dark web market."  The owners appeared to be operating an 'exit scam' and some staff appeared to be blackmailing users by threatening to reveal their dark net identities.  A moderator leaked high-level credentials online.  Then, when vendors found their money had disappeared in mid-April, this prompted German authorities to execute a series of arrests.
The dark web is a part of the internet often used by criminals that is hosted within an encrypted network and accessible only through anonymity-providing tools, such as the Tor browser.  Typically, to access it, one must use specific software or configurations, or obtain authorization to access.
"We continue to keep pace with sophisticated actors on the dark web by increasing our technical abilities and working even more closely with our international law enforcement partners," said United States Attorney Nick Hanna. "While they lurk in the deepest corners of the internet, this case shows that we can hunt down these criminals wherever they hide."
"We are on the hunt for even the tiniest of breadcrumbs to identify criminals on the dark web," said United States Attorney McGregor W. Scott for the Eastern District of California. "The prosecution of these defendants shows that even the smallest mistake will allow us to figure out a cybercriminal's true identity.  As with defendant Marcos Annibale, forum posts and pictures of him online from years ago allowed us to connect the dots between him and his online persona 'Med3l1n.'  No matter where they live, we will investigate and prosecute criminals who create, maintain, and promote dark web marketplaces to sell illegal drugs and other contraband."
Sources:
Two Israelis arrested in international dark web takedown involving FBI
Police just took down a massive dark web marketplace in Germany
3 Germans Who Allegedly Operated Dark Web Marketplace with Over 1 Million Users Face U.S. Narcotics and Money Laundering Charges