The lawsuit is like many others Trump's Justice Department has faced–and lost.
---
Illinois Attorney General Kwame Raoul is suing the U.S. Department of Justice for withholding law enforcement funds as part of an immigration policy dispute.
Crain's Chicago Business reports that the lawsuit isn't exactly novel—Illinois, along with several other states, have fought similar battles with Washington. Since taking office, President Donald Trump has severely and repeatedly criticized states which allow "sanctuary cities" within their borders.
The term "sanctuary city," within U.S. politics and immigration policy, refers to urban areas which limit the extent to which law enforcement can co-operate with federal immigration enforcement agencies. President Trump and has allies claim that sanctuary-style policies increase crime and put U.S. citizens at risk.
To curb the spread of sanctuary polices, the president has tried withholding federal funds from states and cities which shield immigrants from federal authorities.
In 2017, former Illinois Gov. Bruce Rauner—a Republican–signed a law prohibiting state and local police from arresting anyone solely due to their immigration status. The same bill also included measures to curb law enforcement co-operation with the federal government, barring Illinois police from assisting I.C.E. in carrying out immigration detainers.
The Trump administration retaliated by placing "illegal conditions on funding for Illinois law enforcement and criminal justice initiatives," including the Edward Byrne Memorial Justice Assistance Grant.
The Justice Department, says A.G. Raoul, won't lift the blockade until and unless Illinois mandates co-operation between its police and federal immigration authorities. Raoul has criticized the Trump administration and recently-appointed U.S. Attorney General William Barr of political over-reach.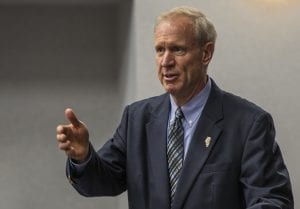 "As Attorney General Barr is likely aware, it is unconstitutional to place immigration-related conditions on funding for Illinois law enforcement," Raoul said in a Thursday statement. "This lawsuit will help ensure that this important funding is not used as a bargaining chip as the administration continues to push its illegal and discriminatory immigration policies."
According to Crain's Chicago Business, 'at least 10 judges' have already ruled against the Department of Justice in similar lawsuits.
But the department's so far staved off a national injunction against its anti-sanctuary policies, forcing individual states and cities into isolated legal battles. Raoul suggests that the Trump administration is trying to use law enforcement funding as yet another way to inconvenience and burden jurisdictions which don't comply with federal authorities.
In the meantime, liberal Illinois legislators are cooperating with immigration advocates to solidify the state's sanctuary status. Lawmakers like Rep. Celina Villanueva (D-Chicago) and Sen. Don Harmon (D-Oak Park) would codify the inability of local police to work with I.C.E. while providing protection against deportation to migrants who are arrested, detained or otherwise interrogated by law enforcement.
Along with preventing police from cooperating with the federal government, other public agencies would be similarly barred from giving information to I.C.E. and its affiliates.
Advocates of sanctuary policies often claim that freeing illegal immigrants from the fear of deportation means they're more likely to cooperate with local police by reporting crimes. And Villanueva suggested that policies which seek to deny funding to sanctuary cities and states are tantamount to bullying.
"What they're trying to do is scare our families, our immigrant families, into not being able to report crimes that are happening int their communities," Villanueva said. "[They're] living in fear of going to work every day, taking their kids to school, just living lives."
Sources
ATTORNEY GENERAL RAOUL SUES DEPARTMENT OF JUSTICE FOR WITHHOLDING ILLINOIS LAW ENFORCEMENT FUNDING
Illinois AG pushes back against Trump 'sanctuary city' funding blockade
Immigrant rights advocates push to make Illinois a sanctuary state