The three-judge panel didn't seem inclined to either side, instead acknowledging the lawsuit's novel qualities.
---
On Tuesday, three federal judges heard arguments in the 'Climate Kids' lawsuit that the federal government is hoping to have dismissed before it can ever go to trial.
The New York Times reports that the panel, comprised of judges from the 9th Circuit Court of Appeals, grilled attorneys for the Climate Kids and the federal government.
At the crux of the suit is the plaintiffs' contention that Washington is violating tenants of the U.S. Constitution by refusing to address—and, in many cases, contributing to—global climate change. A brief filed by the Climate Kids' lawyers claim that youth are being deprived of their "rights to life, liberty, property, and public trust resources by federal government acts that knowingly destroy, endanger, and impair the unalienable climate systems that nature endows."
But the government has continued to insist that the judiciary isn't properly equipped to dictate climate policy—something Washington says is the exclusive domain of Congress.
Nonetheless, the plaintiffs' brief argues that "that these young people deserve" a "chance to present their full case against those who through their governance harm them, and let the light of justice fall where it may."
The plaintiffs have also petitioned the government to halt new fossil fuel extraction projects while the case remains unresolved.
But the Times notes Washington's resistance to the entire process. Justice Department attorneys say the Climate Kids' demands for a courthouse solution are untenable, "essentially placing a single district court in Oregon—acting at the behest of a few plaintiffs with one particular perspective on the complex issues involved—in charge of directing American energy and environmental policy."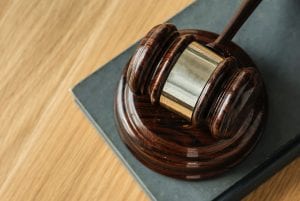 Judge Andrew D. Hurwitz purportedly "leaned" into that position, challenging government attorneys who claim that, even if Washington is doing harm through inaction on climate change, that a lawsuit isn't the right way to intervene.
Hurwitz, writes the New York Times, apparently led the Justice Department through a "far-fetched" hypothetical scenario, which involved Canadian terrorists crossing the U.S. border and kidnapping children.
Hurwitz said the government's assertion that courts can't compel action might mean that the hypothetical children would "no option but to die."
However, Hurwitz also grilled the plaintiffs' lead attorney, Julia Olson, on wanting the judiciary "to do a lot of new stuff."
It's difficult to tell where the 9th Circuit Court of Appeals may go with its decision—the Times spoke to legal experts who said it's quite possible the judges may dismiss the entire suit. Even if they don't, the Supreme Court, now controlled by a conservative majority, could decide to do away with it.
"If the Ninth Circuit expresses a view about the proper of the courts in addressing climate change, that could have broad implications for other cases," said Columbia Law School Professor Michael Gerrard. "But it is also possible that the court will rule on narrow procedural grounds that apply only to this case."
And the Times also quotes Sean Hecht, co-executive director of the Emmett Institute on Climate Change and the Environment at the University of California, as opining that the judges, while aggressive in their questioning, have yet to "really tip their hand."
Sources
'Climate change kids' suit draws thousands of supporters as government seeks dismissal of case
'Climate kids' hold press conference in Portland
'Climate kids' lawsuit faces critical hearing
Judges Give Both Sides a Grilling in Youth Climate Case Against the Government
Kids suing the US over climate change are getting global support