Religious hate crimes are investigated by police. One perpetrator is caught. The other case remains open.
---
69-year-old Benjamin Jaramillo Hernandez of Portland, Oregon was sentenced to fifteen months in federal prison for a hate crime targeting St. Mary Catholic Church in Eugene and illegally possessing ammunition.  Hernandez also received three years of supervised release.  The U.S. Attorney's Office of Oregon said Hernandez "used intimidation and threats of violence to terrorize the church."
"These crimes threaten the security, freedom and well-being of entire communities," U.S. Attorney Billy J. Williams said. "No conviction can reverse the harm caused by Mr. Hernandez, but we hope it provides some measure of justice to St. Mary parishioners and the entire Eugene community."
According to court records, on Sept. 9, 2018, Hernandez was escorted from the church's property after "an angry outburst during communion."  Then, on September 14, "a church employee reported that someone had dispensed pepper spray on the door handles and through the mail slot of the front door at St. Mary's office.  Due to the incident, employees said they felt burning sensations in their fingers and respiratory distress."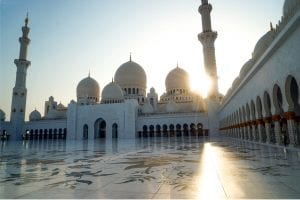 Surveillance footage helped Eugene police officers and FBI agents to identify Hernandez as the person responsible for both incidents.  Two days later, on September 16, authorities said Hernandez was seen near St. Mary once again, and a witness nearby at the time said he shouted, "I've got something for you right here," while pointing to a bag he was carrying at his side.
St. Mary employees later found a threatening note on September 20 as well as seven bullets in the office.  According to the DA's Office, the note threatened the church with "2 MP5s w/50 rounds each."  The note also stated with "Eugene is going on the [expletive] map."
Once again, Eugene police reviewed the footage and identified Hernandez as the culprit.  He was arrested on September 21.  During a search, officers discovered three .410 shotgun shells, and thirteen 10mm Sig hollow point bullets, and a half-emptied can of pepper spray.
Hernandez pleaded not guilty on Febuary 12, 2019 to "obstruction or attempted obstruction of persons in the free exercise of their religious beliefs and unlawful possession of ammunition," according to court documents.
Meanwhile, in an incident that is also being investigated as a hate crime, police in Lincoln, Nebraska, are looking into an assault on a Muslim woman who said she was verbally and physically targeted by two men.  She was not identified.
Law enforcement officers have stated that the 18-year-old victim was walking in west Lincoln when "two white men approached her, made derogatory comments and threats, and then knocked her to the ground and kicked her," according to an incident report.  Police said the woman "suffered bruises and cuts to her forearms and both sides of her face."
Police Chief Jeff Bliemeister said disturbing comments that were made by the men led police to open a hate crime investigation in the assault.  Bliemeister said his agency "will not tolerate hate crimes."
So far, the man have not been identified and no arrests have been made in the case.  The Council on American-Islamic Relations is offering a $1,000 reward for information leading to the arrest and conviction of the women's attackers.
Sources:
Man sentenced for hate crime against Eugene church
Police in Nebraska investigate attack as possible hate crime