While the Florida-based jury did not find McDonald's liable for the 4-year-old victim's physical injuries, jurors did say the company and a franchisee should have included warning labels on the McNuggets packaging.
---
A Florida jury has reached a split decision in a lawsuit alleging that a Fort Lauderdale-area McDonald's served hot chicken McNuggets that left a young girl seriously injured.
According to NBC-Miami, the jury found on Thursday that McDonald's and a local Tamarac franchise owner negligently allowed employees to serve McNuggets that had been heated beyond recommended safety guidelines.
The chicken McNuggets, writes NBC-Miami, were served to a four-year-old girl and her family.
In their lawsuit, the child's parents—identified in court documents as Philana Holmes and Humberto Caraballo Estevez—said that their daughter suffered second-degree burns after attempting to handle the food products.
The family's complaint characterizes the McNuggets as "unreasonably and dangerously" hot.
One nugget, attorneys say, fell out of the box and became stuck within the child's car seat, burning her leg.
The lawsuit names defendants including the McDonald's Corporation and franchisee Upchurch Foods, which owns and manages the Tamarac restaurant.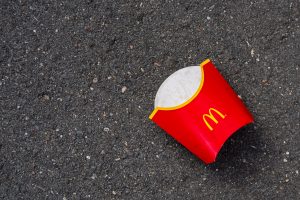 Attorneys for Upchurch Foods say that the restaurant should bear "no responsibility for any injuries or damages" that the four-year-old child "may have sustained."
NBC-Miami reports that, while the jury found that McDonald's and Upchurch Foods were negligent for not including safety warnings on the McNuggets' packaging, the McDonald's Corporation should not be held liable for the resulting burn injuries.
Despite the decision absolving McDonald's of some liability, attorneys for the restaurant chain said that they disagreed with the court's decision.
"We take every complaint seriously and certainly those that involve the safety of our food and the experiences of our customers. Together with our franchisees, for nearly 70 years, we have consistently served customers safe, high-quality food using strict policies and procedures," McDonald's said in a statement. "This was an unfortunate incident, but we respectfully disagree with the verdict. Our customers should continue to rely on McDonald's to follow policies and procedures for serving Chicken McNuggets safely."
Brent Upchurch, the owner of Upchurch Foods, said that he was also disappointed with the jury's verdict.
"Our sympathies go out to this family for what occurred in this unfortunate incident, as we hold customer safety as one of our highest priorities. That's why our restaurant follows strict rules in accordance with food safety best practices when it comes to cooking and serving our menu items, including Chicken McNuggets," Upchurch said in a statement reprinted, in part, by NBC-Miami.
"We are deeply disappointed with today's verdict because the facts show that our restaurant in Tamarac, Florida did indeed follow those protocols when cooking and serving this Happy Meal," he added. "Our community here in South Florida should remain confident that we will continue serving safe and high-quality meals, just as we've done for more than 50 years at Upchurch Management restaurants."
Philana Holmes, however, said that she is pleased with the trial's outcome, and hopes that her family's experience will spare other Florida parents from similar incidents.
"Just thankful that Olivia's voice was heard," Holmes said. "I'm glad McDonald's now has to acknowledge there's a problem that needs to be put out there. Just thankful."
Attorneys for the family said that another, later trial will determine how much money McDonald's and Upchurch Foods may have to pay in compensation.
Sources
Hot chicken nugget trial: Florida parents sue McDonald's, allege daughter was disfigured by Happy Meal
McDonald's 'Hot' McNugget Burn Lawsuit Results in Jury Reaching Split Verdict