Attorneys note that Florida has led an unprecedented campaign against felons believed to have voted in the 2020 general election, including felons who did not know they were not entitled to vote.
---
The Florida Rights Restoration Coalition has filed a lawsuit against Gov. Ron DeSantis and other Florida officials, claiming that the state has created a "bureaucratic system around the implementation of Amendment 4," effectively preventing most Florida residents with prior felony convictions from voting.
"Ever since the people of Florida passed a constitutional amendment to grant people with felony convictions a new right to vote, the Governor and the state have done everything in their power to prevent those 1.4 million new voters from actually voting," said Carey Dunne, a founder of the Free and Fair Litigation Group.
Dunne's statement, notes CNN, was published in a Florida Rights Restoration Coalition press release.
"This is just a more sophisticated version of the conduct that caused the Voting Rights Act to be passed in the first place," Dunne said.
The lawsuit claims that, in Florida, a resident's eligibility to vote is "often determined by local practices that vary depending on the county in which they live."
"The result is confusion and uncertainty that deters them from registering to vote," the complaint alleges.
Attorneys have also said that Florida state officials—including Gov. DeSantis, Florida Secretary of State Cord Byrd, and Florida Department of Law Enforcement Commissioner Mark Glass—have launched an "aggressive campaign" to arrest convicted felons who either voted, or tried to vote, in the 2020 general election.
"If you get in wrong, even in good faith, you're going to be arrested," Dunne said.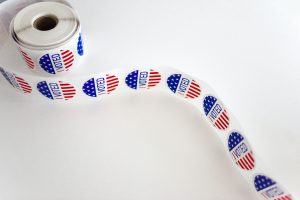 "Through this campaign, the Defendants have created a climate of intimidation even among people who believe in good faith that they are eligible to vote," the lawsuit states.
The complaint, writes The Washington Post, has asked a district court to order the state to begin complying with the law.
Corrective measures could include creating a trusted central database wherein people with criminal records can check their status, or the appointment of an impartial monitor to oversee the state's compliance with state- and federal-level voting laws.
Desmond Meade, the head of the Florida Rights Restoration Coalition, said that the lawsuit simply intends to force the state of Florida into streamlining and modernizing its voting-related policies.
"What we're asking [the court] to do is compel the state to do its job," Meade said. "It should not be a hodgepodge of policies and procedures to make that determination as it relates to what a person needs to do in order to become eligible."
Sources
DeSantis, others sued over alleged 'election police' voter intimidation
Florida group files federal lawsuit against DeSantis and other state officials over voting rights of prior felons