Fox News host Tucker Carlson accused McDougal of extortion last December.
---
Karen McDougal, a former Playboy model who claims to have had an affair with President Donald Trump, is suing Fox News for defamation.
The Washington Post notes that McDougal's story was purchased by the National Enquirer for $150,000. But instead of publicizing her claims, the Enquirer quickly buried them.
As the Post reports, the close relationship between Trump and the Enquirer's owner prompted speculation that the president had arranged or otherwise been party to the payment.
Filed in a New York state court, the lawsuit accuses Fox host Tucker Carlson of acting with "reckless disregard for the truth." The complaint highlights several of Carlson's remarks, spoken aloud during a December 2018 episode of Tucker Carlson Tonight.
On his show, Carlson implied that McDougal victimized the then-presidential candidate.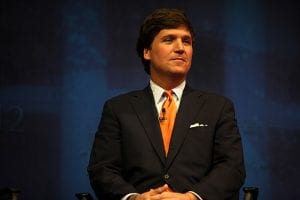 Carlson said the former Playboy playmate had "approached Donald Trump and threatened to ruin his career and humiliate his family if he doesn't give them money."
However, the lawsuit accuses Carlson of being intentionally deceptive.
"This statement is completely untrue and was made knowing it was untrue and with reckless disregard for the truth," the suit states. "McDougal never approached Trump and threatened to ruin his career or humiliate his family if he did not give her money."
McDougal claims that her reputation was damaged due to Carlson's comments. Furthermore, she says that, had Fox News or Carlson performed even a cursory investigation, they'd have realized she never attempted to extort the president.
"Had Carlson done any investigation or responsible reporting or journalism, he would have easily discovered that what he and Fox News published about McDougal was and is demonstrably false," the suit says. "Fox News' publication was grossly irresponsible, made with […] actual malice."
While Fox has vowed to "vigorously" defend its case in court, McDougal's attorney says the news network needs to learn a lesson.
"Media outlets like Fox News must learn that they can't mislead for ratings," said attorney Eric Bernstein. "They hurt real people like Karen McDougal when they do so."
The Washington Post notes that a secretly-made recording—released just last year—captured a conversation between President Trump and his former attorney, Michael Cohen. In it, the two discussed whether they should buy the rights to McDougal's story.
While the conversation leaves some ambiguity as to whether Trump had acted proactively, Carlson's spin made it sound as if McDougal approached him with threats and an eye on money.
"After listening to or watching the Show, a reasonable viewer would have concluded that the statements made about McDougal were fact," the lawsuit states, "and that she is a criminal that engaged in illegal activity against the would-be President of the United States."
The complaint adds that, despite Carlson's claims and Fox's defense, Trump himself has never corroborated the extortion story.
"No matter which version of Trump's statement one believes, Trump never once claimed he was extorted by McDougal," the suit says.
Statement from a FOX News Media spokesperson, 9/24/2020:
"Karen McDougal's lawsuit attempted to silence spirited opinion commentary on matters of public concern. The court today held that the First Amendment plainly prohibits such efforts to stifle free speech. The decision is a victory not just for FOX News Media, but for all defenders of the First Amendment."
Sources
Former Playboy model Karen McDougal sues Fox News for alleged defamation
Former Playboy model sues Fox News, claims Tucker Carlson damaged her reputation
A former Playboy model is suing Fox News after Tucker Carlson accused her of extorting Trump