Predicting the future isn't always possible. Nevertheless, knowing the current trends can help you make an informed decision.
---
Technological advancements, demographic changes, and regulations can disrupt industries and erode job opportunities. For those who've invested time and money in a career pathway, the change can necessitate retraining or even a complete change of career. 
While the forces of change can be unpredictable, it's possible to anticipate the types of sectors that are less likely to undergo contraction in the coming years. Getting to know which industries have the potential for higher growth can help you choose a more stable career pathway. 
With this in mind, it's worth exploring the specific driving factors behind these industries' growth and how you could break into these sectors. 
1. Renewable energy
The renewable energy sector already employs millions of people around the world, and its workforce keeps growing steadily. The industry is set to experience a strong demand for skilled workers across segments like manufacturing, trading, sales, and installation. Types of renewable energy include solar, biofuels, hydropower, and wind, with solar typically the biggest employer. Driving this trend is the growing demand for clean energy generation. 
For example, in Australia, investment in large-scale renewable energy projects doubled from $10 billion in 2017 to $20 billion in 2018. Thousands of new jobs were created as a result. Given the ambitious renewable energy targets across Australian states and territories, the sector is likely to continue expanding. 
Whether you pursue a technical qualification like engineering or have experience in supporting functions like marketing, sales, and accounting, a career in the renewables sector is likely to offer opportunities for career progression over the long term.
2. Construction
The construction industry generates over $350 billion in annual revenue and accounts for around 8% of Australia's GDP. The sector is projected to grow at a steady 2.5% over the coming years. Employment is projected to increase from 1.2 million jobs in 2018 to more than 1.3 job million by 2023. The construction industry has six main sectors: building completion services, building installation services, building structure services, general construction and demolition, signage and building surveying, and specialist construction services. 
The industry offers a diverse range of occupations. For example, you could work in planning, survey, structural construction, demolition, renovation, maintenance, repair, or painting and decorating. Bricklaying, carpentry and joinery, solid plastering, plumbing, and wall and floor tiling are considered in-demand priority occupations. A career pathway could mean employment or running your own small business. However, bear in mind the sector tends to be heavily regulated with licensing mandatory for certain occupations. 
3. Tech
While automation and AI will reshape the tech sector, the demand for skilled employees is likely to continue, according to top tech leaders. The majority (80%) tech leaders say it's a challenge to find enough candidates with the right skills to fill positions. 
These include in-demand specializations like software development, data analytics, engineering, AI and machine learning, cloud computing, computer networking, and cybersecurity. 
Tech companies also say they highly value multi-knowledge professionals with real-world experience and soft skills like emotional intelligence. If you have and invest in obtaining the right technical skills, you could break into the tech sector and pursue a rewarding, successful career over the long term.
4. Healthcare
Globally, healthcare is already an $8.45 trillion market, and it's projected to grow to $11.9 billion by 2022. With aging populations, steady economic growth, tech developments, and busy and sedentary lifestyles, demand for healthcare are set to continue rising rapidly. Segments with growth potential include healthcare services, medical equipment, biologics, veterinary healthcare, and pharmaceutical drugs.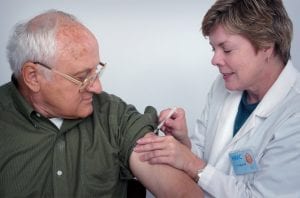 From specialist doctors to pharmacy assistants, the demand for experienced and qualified healthcare personnel could grow across the whole sector. Obtaining the right qualifications can help you break into the industry and gain much-needed experience for career progression.
5. Aged care
Aged care is another industry undergoing rapid expansion. Driving factors behind this growth include Australia's aging population and the National Disability Insurance Scheme. Employers in the sector are already finding it a challenge to source suitable candidates for roles. From 2018 to 2023, personal-care jobs are expected to increase by 80,600, a jump of nearly 30% over five years. 
This is in contrast to the average of 7.1% projected for all jobs in the economy. Most of these new personal-care jobs will be in the aged and disabled carer segments, with the rest in the nursing support and personal care segments. Employers in the sector value personal attributes such as work ethic and interpersonal skills, so to break into the sector, ensure you have the necessary qualifications as well as soft skills. 
Investing wisely in a future-proof career pathway
Predicting the future isn't always possible. Nevertheless, knowing the current trends can help you make an informed decision. It could see you choosing a stable career pathway with stronger opportunities for progression. Demographic changes, government regulations, technology developments — these, together with other factors, shape the skills that will be in demand in the coming years. 
Whether you're pursuing roles in healthcare, tech, renewable energy, or another high-growth sector, you'll be investing precious time in gaining the right qualifications, skills, and experience. As such, pursuing a future-proof career pathway could see you using your time and resources wisely and reaping the career rewards you want, in a sector with excellent long-term prospects.