Former Department of Health and Human Services director Nick Lyon was sent for refusing to disclose information about the Flint water crisis to the public. But his defense has prompted a judge to reconsider whether the law's being applied right.
---
A Genesee County judge says it may take weeks to decide whether Michigan's former health director will continue facing involuntary manslaughter charges in the aftermath of Flint's water crisis.
The issue for Judge Joseph Farah, writes the Associated Press, is whether to overturn a ruling made last summer in a lower court. In it, another judge ordered Nick Lyon, head of the Michigan Department of Health and Human Services, to trial in the deaths of two men who'd been diagnosed with Legionnaires' disease.
Lyon served as HHS chief through the beginning of this year. He's accused of withholding information about the presence of bacteria in Flint's water supply, recorded between 2014 and 2015.
Farah, says the AP, wants to release an opinion with 90 days.
At stake is the decision of a district court judge to send Lyon to trial. The judge found enough evidence to advance the decision. But defense lawyer John Bursch is asking Farah to first look at state law—he claims that Lyon, despite being entrusted with the public's health, had "no legal duty" to inform anyone that Flint's water was dangerous.
"They can't proffer any evidence that a public notice would have changed anything," Bursch said Wednesday.
"We had 20 pages of argument in our legal brief that he didn't address," Brusch said in August. "He didn't talk about the law at all."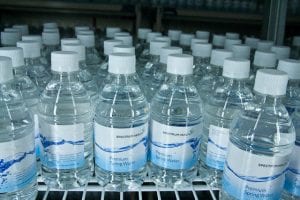 In her book What the Eyes Don't See, Flint pediatrician Dr. Mona Hanna-Attisha suggests that the lead poisoning epidemic had an outsized effect on nursing mothers and young children. Perusing Hurley Medical Center's own records, Hanna-Attisha concluded that some children's lead counts spiked after Flint switched its water supply from Lake Huron to a local river.
Furthermore, she says the state suppressed and later rejected her findings, offering misinterpreted analyses instead of launching an independent investigation.
The Flint River's highly corrosive water has been linked to elevated incidences of childhood lead poisoning as well as the Legionnaire's outbreak.
Flint residents present at Lyon's August appearance signaled frustration with the state's refusal to hold any high-level officials responsible.
Courtroom spectator Karina Petri, originally from Milwaukee, told the AP that accountability is "long overdue."
"[Lyon] withheld the truth. There's no excuse," Petri said. "He could have changed hundreds of lives."
Now Lyon has the opportunity to escape with limited consequence.
Special prosecutor Todd Flood said that Lyon's position afforded him extraordinary powers, including the authority to shut down hospitals where legionella bacteria was first detected.
But Judge Farah said it's not his place to provide "global satisfaction" for Flint's tragedy.
"If you're looking for all wrongs to be righted, you've come to the wrong place," Farah told a packed courtroom. "This decision will be about the law and the facts and nothing more and nothing less."
Sources
Judge: Give me weeks for decision in big Flint water case
Michigan official faces manslaughter trial over Flint deaths
Newest testing shows lead in Flint water at lowest level since water crisis started