Federal agents raid genetic testing facilities charging owners with healthcare fraud.
---
Federal agents recently raided multiple genetic testing laboratories, bringing criminal fraud charges against 35 people in four states who reportedly caused $2.1 billion in losses to federal healthcare insurance programs.  Officials at the Justice Department and Health and Human Services Department Office of the Inspector General said charges "were filed in Florida, Texas, Louisiana and Georgia in one of the largest healthcare fraud schemes ever charged."
Genetic testing helps patients determine their risks of developing cancer and other diseases.  This form of testing has become more and more popular in recent years and has been at the epicenter of more than 300 federal investigations.
"These defendants allegedly duped Medicare beneficiaries into signing up for unnecessary genetic tests, costing Medicare billions of dollars," Assistant Attorney General Brian A. Benczkowski of the Justice Department's Criminal Division.  "Together with our law enforcement partners, the Department will continue to protect the public and prosecute those who steal our taxpayer dollars."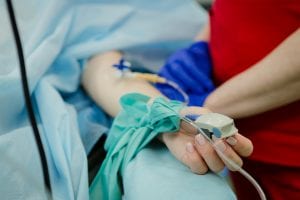 According to court documents, Khalid Satary of Suwanee, Georgia, owner of Clio Laboratories in Lawrenceville, Georgia, was accused of "soliciting medically unnecessary genetic cancer tests and paying illegal bribes and kickbacks."  Satary is already a convicted felon who operated a toxicology lab that was raided in 2016 for illegal kickbacks.
Clio, Elite Medical Laboratories and medical billing company Laboratory Experts, all in the same complex, were raided and all are connected to Jordan Satary, the son of Khalid Satary.  Victoria Nemerson, Clio's general counsel, previously stated Clio's "testing is proper" and it "commits substantial time and resources to meeting our legal duties."
Others charged in the scheme included Minal Patel, founder of LabSolutions, and Jamie Simmons, the founder of two telemedicine companies, MedSymphony and Meetmydocc LLC.   Patel is accused of "defrauding the Medicare and Medicaid insurance programs in connection with genetic cancer tests and paying kickbacks."  Simmons is "charged with conspiring to commit healthcare fraud and paying and receiving kickbacks that led to Medicare billings of more than $56 million."
According to the Justice Department, LabSolutions billed Medicare programs more than $494 million in unnecessary testing.  Clio and others controlled by Khalid Satary, billed Medicare more than $547 million.
"The defendants are alleged to have capitalized on the fears of elderly Americans in order to induce them to sign up for unnecessary or non-existent cancer screening tests," said U.S. Attorney Ariana Fajardo Orshan of the Southern District of Florida.   "The genetic testing fraud schemes put personal greed above the preservation of the American health care system."
U.S. Attorney Peter G. Strasser for the Eastern District of Louisiana added, "The defendants allegedly targeted elderly, disabled and other vulnerable consumers, luring them into this fraudulent scheme that affected victims nationwide and generated losses in excess of one billion dollars which spanned multiple jurisdictions.  Schemes such as these have a profound effect on our nation, not only by the monies lost in the scheme, but also by stoking public distrust in some medical institutions.  It is imperative to preserve taxpayer confidence whenever and wherever possible.  Our office, along with our investigative partners, reminds seniors and their caregivers to be vigilant for fraudulent schemes.  If you are aware of or believe you are the victim of a health care fraud scheme, please contact law enforcement."
Sources:
U.S. agents raid genetic testing labs, charge 35 in Medicare fraud probe
Federal Law Enforcement Action Involving Fraudulent Genetic Testing Results in Charges Against 35 Individuals Responsible for Over $2.1 Billion in Losses in One of the Largest Health Care Fraud Schemes Ever Charged