Doctor is charged with running a pill mill, contributing to the opioid crisis.
---
Dr. Joel Smithers who operated a pill mill in Martinsville, Virginia, was arrested for allegedly prescribing an estimated half a million doses of opioids in just two years.  "Patients from five states drove hundreds of miles to see him, spending up to 16 hours on the road to get prescriptions for oxycodone and other powerful painkillers," according to records.
"He's done great damage and contributed to the overall problem in the heartland of the opioid crisis," said Christopher Dziedzic, a supervisory special agent for the Drug Enforcement Administration (DEA).
Smithers, just 36 years old and a married father of five, was convicted on more than 800 counts of illegally prescribing opioids and is facing the possibility of twenty years to life in prison.  Some of the powerful and highly addictive drugs the doctor had prescribed include oxycodone and oxymorphone, and his practices allegedly led to the death of a West Virginia woman.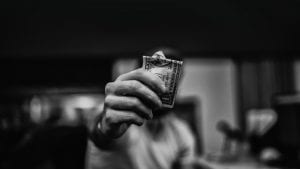 In court filings and at trial, agents alleged Smithers had an office that "lacked basic medical supplies, a receptionist who lived out of a back room during the work week, and patients who slept outside and urinated in the parking lot."  One woman who described herself as an addict and frequented the pill mill testified, "I went and got medication without – I mean, without any kind of physical exam or bringing medical records, anything like that."
A receptionist testified that "patients would wait up to twelve hours to see Smithers, who sometimes kept his office open past midnight."  She also said, he "did not accept insurance and took in close to $700,000 in cash and credit card payments over two years."
Dziedzic said, "People only went there for one reason, and that was just to get pain medication that they (could) abuse themselves or sell it for profit."
Andrew Kolodny, a Brandeis University physician, critical of opioids himself, reported many of his colleagues became more and more willing to prescribe addictive drugs in recent years because of the substantial profits to be had.  He added, "If you're one of the guys still doing this, you're going to have tons of patients knocking down your door."
During his trial, Smithers testified after he moved to Virginia, "he found himself flooded with patients from other states who said many nearby pain clinics had been shut down."  So, he "reluctantly began treating these patients with the goal of weaning them off high doses of immediate-release drugs."
He admitted he "sometimes wrote and mailed prescriptions for patients he had not examined" but said not until after he had spoken to them on the phone.  However, he also admitted to even more shady practices, such as meeting one patient in a Starbucks parking lot of a Starbucks and accepting $300 in exchanged for a prescription for fentanyl.
Smithers' attorney testified the physician long suffered from depression and anxiety, and family members support these claims.  The doctor also said he trusted too many people in the process, specifically stating, "I learned several lessons the hard way about trusting people that I should not have trusted."
Sources:
Doctor facing life in prison for thousands of opioid doses
Pill mill doctor facing life in prison over opioid drug distribution ring