Zimmerman says that Trayvon Martin's parents and attorney conspired with state prosecutors to replace a key witness in the case against him.
---
George Zimmerman, acquitted of murdering Trayvon Martin in 2012, is suing the dead teen's family for conspiracy.
According to CNN, the lawsuit is sweeping in scope and ambition: it targets Martin's family, their attorney, and a book publisher. In total, Zimmerman is hoping to win more than $100 million. But his case—and his claims—seem anything but substantive. That's because Zimmerman maintains that one of the prosecution's key witnesses at his own trial was "an imposter."
The suit was filed by Zimmerman's civil attorney, Larry Klayman, in Florida's Polk County Circuit Court on Wednesday.
In Klayman's 36-page filing, he outlines a series of bizarre allegations: that Martin's parents and their attorney, Ben Crump, "falsely inserted Rachel Jeantel into the case after the Sanford Police Department closed the investigation" as an instance of self-defense.
The suit goes on to detail how Jeantel—18 years old at the time—was "an imposter and fake witness." And if Jeantel was a fraud, Zimmerman claims, then entire case against him was meritless.
"Defendants, each and every one of them, as individuals and through their employment and agencies, have worked in concert to deprive Zimmerman of his constitutional and other related legal rights," the lawsuit states.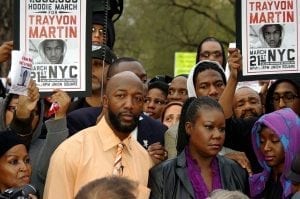 ABC News recounts how the case begun: in February of 2012, Trayvon Martin went to a Twin Lakes store to purchase a bag of Skittles and a soft drink. On the walk back to his father's house, Martin was talking to Jeantel over the phone. But before he could reach his destination, Martin was confronted by Zimmerman—an armed neighborhood watch volunteer, apparently suspicious of the African-American teenager.
In court, Jeantel claims to have overheard the exchange between Martin and Zimmerman.
"He said, 'Why are you following me for?' and I heard a hard-breathing man say, 'What you doing around here?'" Jeantel said. Moments later, Jeantel said, she heard Martin's cellphone hit the ground. Moments later, Martin started yelling at Zimmernan to "get off."
Zimmerman then shot and killed Martin.
On the stand, Jeantel says she lied to the Martin family about her real age. She offered a reason for not attending Martin's funeral.
Now, Klayman and Zimmerman are citing Jeantel's testimony, along with a soon-to-be-released documentary, as evidence that the woman wasn't on the phone with Martin—and that it had actually been her half-sister, Brittany Diamond Eugene, who last spoke to Martin.
The duo's lawsuit claims that Eugene was reluctant to testify—so Crump, in tandem with the Martin family, devised a plan to put Jeantel on the stand instead.
In response, Crump suggested the allegations are wholly fictitious.
"This tale defies all logic, and it's time to close the door on these baseless imaginings. This plaintiff continues to display a callous disregard for everyone but himself, revictimizing individuals whose lives were shattered by his own misguided actions," Crump said. "He would have us believe that is the innocent victim of a deep conspiracy, despite the complete lack of any credible evidence to support his outlandish claims."
"I have every confidence that this unfounded and reckless lawsuit will be revealed for what it is," Crump said, "another failed attempt to defend the indefensible and a shameless attempt to profit off the lives and grief of others."
ABC notes that the suit also names Eugene and several current and former Florida prosecutors as defendants, along with the State of Florida and the Florida Department of Law Enforcement.
Since the shooting, Zimmerman has repeatedly stoked controversy. He fundraised for a "Muslim free gun store," harassed and threatened a private investigator and tried to auction off the same gun he used to murder Trayvon Martin.
Sources
George Zimmerman files $100M lawsuit against Trayvon Martin's family and Florida prosecutors
George Zimmerman sues Trayvon Martin's parents and others for more than $100 million