Incoming freshman Ismail Ajjawi was detained for eight hours while CBP official searched his laptop. They sent him home after seeing that some of his Facebook friends had views that "oppose the U.S. government."
---
An incoming Harvard freshman was denied entry to the United States after immigration authorities peruse the student's Facebook page.
According to the university, Ismail Ajjawi, a Palestinian living in Lebanon, was refused entry last week.
"The University is working closely with the student's family and appropriate authorities to resolve the matter so that he can join his classmates in the coming days," Harvard spokesperson Jason Newton wrote in a statement e-mailed to CNN.
While U.S. Customs and Border Patrol (CBP) confirmed that it turned Ajjawi away at the border, it wouldn't divulge any further information.
"This individual was deemed inadmissible to the United States based on information discovered during the CBP inspection," the agency said.
The Harvard Crimson—the university's newspaper—published excerpts from Ajjawi's encounter with CBP. He says he was detained for more than eight hours before Customs and Border Patrol told him he wouldn't be allowed into the United States. In that time, agents allegedly asked him to unlock his phone and laptop. His electronics were searched for hours. Afterwards, an immigration officer began interrogating Ajjawi about his friends' social media activity.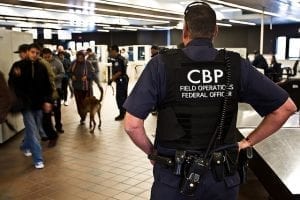 Ajjawi was then purportedly told that he follows people whose "political points of view that oppose the US."
"When I asked evey time to have my phone back so I could tell them about the situation, the officer refused and told me to sit back in [my] position and not move at all," he said.
"After five hours, [the agent] called me into a room, and she started screaming at me," Ajjawi said. "She said that she found people posting political points of view that oppose the US on my friend[s] list."
However, Ajjawi says that there's nothing incriminating or even mildly suspect on his own timeline—no politics, no endorsements or claims.
"I responded that I have no business with such posts and didn't like, share or comment on them and told her that I shouldn't be held responsible for what others post," he said. "I have no single post on my timeline discussing politics."
That was enough to goad immigration officials into revoking the 17-year old's visa, sending him back to Tyre, Lebanon.
CBP's explanation of its agent's decision is predictably vague.
"Applicants must demonstrate they are admissible into the U.S. by overcoming all grounds of inadmissibility including health-related grounds, criminality, security reasons, public charge, labor certification, illegal entrants and immigration violations, documentation requirements, and miscellaneous grounds," CBP told CBS News.
While Ajjawi has been forced back to Lebanon, the Crimson says he's in contact with a lawyer and hoping to regain his visa in time for the semester's start on 3 September.
Sources
Harvard freshman's visa rejected by border officers at U.S. airport
Incoming Harvard freshman denied entry by immigration officials