Hog Waste Still an Issue in North Carolina after Decades
---
Almost two decades ago, state officials in North Carolina entered into an agreement with Smithfield Foods, the world's leading pork producer and one of North Carolina's biggest businesses, asking that the company finance research to replace lagoons where farmers' hog waste.  The agreement came about after Hurricane Floyd hit and flooded the open pits, sending wastewater every which way and drowning thousands of pigs.  Smithfield was to install a system within three years that was both environmentally effective and economically viable.
Yet, today many North Carolina hog farmers continue to store hog waste in open pits.  This is a common practice despite the millions of dollars in private investment spent, decades of research, and empty political promises.  Smithfield's agreement officially expires in 2025, and North Carolina has yet to develop a replacement system.  R&D finances ran out long ago, and in September of this year, Hurricane Florence dumped 8 trillion gallons of water over four days and thirty-three lagoons again overflowed.
The Smithfield agreement failed because it had far too many requirements, making a viable alternative nearly impossible.  The deal required the "substantial" elimination of odors, ammonia emissions, bacteria, soil and groundwater contamination, and waste discharges.  It allowed state legislators to deflect responsibility to academics.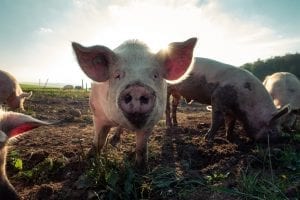 "There's not a whole lot of clean hands," said former Governor Michael F. Easley. "Everyone figures the status quo should be sufficient."
Now, more than 500 residents have joined 26 nuisance lawsuits filed in federal court against a Smithfield subsidiary since 2014.  They've argued that living next to industrial hog operations forces them to live with obnoxious odors, flies, and truck traffic.  So far, plaintiffs in three of the lawsuits have been awarded millions of dollars by jurors.  A fourth trial is just getting underway.  Smithfield has said it "believes that the claims are unfounded and intends to defend the suits vigorously."
The company, now owned by WH Group Ltd., a Chinese pork company, has tried to position itself as a responsible corporate citizen, citing the 2000 agreement as a "demonstration of our company's long-standing commitment to responsible and sustainable hog production…a commitment that continues to this day."
In late October, Smithfield announced plans to cover existing lagoons and install "manure-to-energy" projects at 90 percent of its hog finishing spaces nationwide.  It said covering the lagoons will "mitigate potential issues associated with severe rain events such as hurricanes."  Company CEO Kenneth M. Sullivan said, "When we set an objective, we go big at Smithfield to achieve it."
There are currently an estimated 9 million hogs in North Carolina, each producing roughly 11 pounds of waste a day.   The slats in a hog house floor allow waste to fall through to pits beneath and wastewater is then sent to a lagoon nearby.  Bacteria breaks down the manure and the liquid is sprayed onto crops as fertilizer.
The decades long research to find a better way to manage hog waste has been led by C. Mike Williams.  Williams, who retired from North Carolina State in 2017, said the change envisioned by the agreement has to happen. The current system "has served its purpose, and we need to move to a new technology," he said. "There has to be a better system.  There has to be."
Sources:
A Hog Waste Agreement Lacked Teeth, and Some North Carolinians Say They're Left to Suffer
NORTH CAROLINA'S HOG WASTE PROBLEM HAS A LONG HISTORY. WHY WASN'T IT SOLVED IN TIME FOR HURRICANE FLORENCE?