Homeless man with violent history kills four and leaves one in critical condition.
---
Randy Rodriguez Santos, a 34-year-old homeless man, was charged with multiple counts of murder and another count of attempted murder in connection with attacks that left four homeless men dead in the Chinatown area of New York City.  The man reportedly had a history of violent crime.
According to the police report, Rodriguez Santos "bludgeoned the victims with a metal rod while they were sleeping."  Authorities responded to a 911 call that was made while one of the assaults was occurring, and by the time they arrived, four men were discovered dead from head injuries and a fifth victim, who was able to talk to police, was hospitalized in critical condition.  The report indicated blood was smeared all over the areas in which the bodies were found.
Rodriguez Santos was shown video footage of the assaults during his interrogation and admitted he was the one responsible.  However, he did not enter a plea at his arraignment and is being held without bail.
Two witnesses told responding officers they saw a man dressed all in black repeatedly hitting one of the victims in the head with a metal object, according to Assistant Chief Stephen Hughes.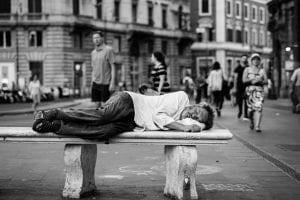 Officers searched for a man fitting this description and discovered Rodriguez Santos carrying a metal bar covered in blood and hair.  He was taken into custody and given a psychiatric evaluation.  He had been arrested previously over a handle of times in the past two years, three times on assault charges.
At a press release, Hughes announced, "Officers immediately began canvassing the area for the suspect.  At Mulberry Street and Canal Street, a male fitting description was observed carrying the metal object.  The officers placed that male in custody and recovered the metal object without further incident."
Rodriguez Santos mother, Fioraliza Rodriguez, said her son started to hit her and his grandfather and the beatings had become so frequent, she kicked him out of the house three years ago.  Relatives revealed he had started using drugs went he moved to New York from the Dominican Republic four years ago, which made him violent.  His mother said she hadn't realized it had escalated.
"I never thought he would kill someone," she said. "I was afraid of him, though, because he punched me.  That's when I told him to get out of my house."
It seemed Rodriguez had no limits after he began abusing drugs.  The names of the victims were not released, but authorities did indicate one was an 83-year-old.  Police still do not have a motive and have indicated they believe the attacks were random.
Michael Baldassano, chief of Manhattan South detectives, said, "The motive appears to be, right now, just random attacks" and the victims were not "targeted by race, age, anything of that nature."
One resident, whose identity was not revealed, said, "I was homeless before and how can you do that to a homeless person.  We all try to live together. We have from different backgrounds, different lives, but we are all human."
"That's totally unlike anything I've ever seen in this neighbor," said another man. "I've been here for a while.  I've never seen any violence at all."
Sources:
Man Charged with Murder in Deaths of Four Homeless Men in Chinatown
Homeless man charged with murder after killing spree in New York City's Chinatown neighborhood