While the U.S. Immigration and Customs Enforcement doesn't consider stillbirths as in-custody deaths, the incident marks the fourth fatality in ICE facilities since December.
---
A young Honduran woman delivered a stillborn baby at an immigration detention center in Texas after going into premature labor last week.
NBC News reports that the woman, aged 24, was six months pregnant when she was apprehended by Border Patrol agents on February 18th. After being taken into custody, the woman, whose name was withheld by the government, was taken to a hospital for preliminary medical screenings. Examined twice, she was cleared by physicians and transferred to an Immigration and Customs Enforcement facility in Port Isabel.
That night, recounts a joint Border Protection and ICE statement, she began "complaining of abdominal discomfort."
Another examination performed by ICE's Health Service Corps led to a series of phone calls. Eventually, a clinical director mandated the woman be sent to a hospital.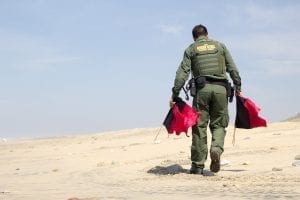 Emergency Medical Services and an ambulance were ordered to the Port Isabel Detention Center.
"At that time, she conveyed that the baby was coming," the statement says. "She went into premature labor, at 27 weeks pregnant, and delivered an unresponsive male infant."
The woman is purportedly still in ICE custody and will not be released until she receives a medical clearance.
Recently-implemented policy dictates that stillbirths are not to be considered in-custody deaths. ICE claims it released a report in the interest of public service.
"ICE and CBP officials are proactively disclosing the details of this tragic event to be transparent with Congress, the media and the public," the joint statement says.
Arizona Central notes that ICE changed its detention guidelines for pregnant women in 2017. They're supposed to be identified, monitored, tracked and 'housed in an appropriate facility' to best manage their care. The Immigration and Customs Enforcement says it typically doesn't detain migrants who are in their third trimester of pregnancy.
While the expecting woman was transferred to a hospital, ICE is supposed to provide on-site prenatal care, education and "remote access to specialists for pregnant women who remain in custody."
In the last, pregnant women were "generally not detained unless their detention was mandatory under the law," except cases of "extraordinary" circumstance.
The stillbirth is the latest high-profile death to occur in government custody since December. Two children, 8-year old Felipe Alonzo Gomez and 7-year old Jakelin Caal, both passed away in or en route to detention centers at the end of last year.
More recently, a 45-year old Mexican national who was detained by Border Patrol agents for illegal re-entry died after being apprehended and requesting medical attention. The man was brought to hospitals twice, upon request, and died after checking in a second time.
"The loss of life is tragic," said Border Protection spokesman Andrew Meehan in a statement last week. "Our condolences go out to the family and loved ones. CBP remains committed to ensuring the safe and humane treatment of those within the care of our custody."
Sources
Detained Mexican migrant dies in Texas hospital
Honduran migrant delivers stillborn baby while in ICE custody in Texas
Honduran Woman Delivers Stillborn Baby in ICE Custody
Honduran woman in immigration custody gives birth to premature, stillborn baby