Investigation reveals Hilton Garden Inn did not abide by minimum wage laws.
---
According to officials, the owners of the Hilton Garden Inn, Valencia Six Flags have agreed to pay more than $110,000 in back wages and fines for violating Los Angeles County's minimum wage ordinance.  The minimum is $14.25 an hour for companies with 26 or more employees, and $13.25 for businesses with 25 or fewer employees.  The hotel agreed to pay $50,000 of the total fines directly to its employees to make up for the back pay owed.
An investigation by the Los Angeles County Department of Consumer and Business Affairs' Wage Enforcement Program revealed four dozen employees were underpaid for a six-month period in 2016.  The hotel allegedly failed to correct this for more than two years, and the owners admitted to violating the law only after an investigation ensued.
"The Department of Consumer and Business Affairs is committed to the principle that every worker must be paid fairly and promptly as required by law," said Joseph M. Nicchitta, director of the Department of Consumer and Business Affairs. "Underpayments of any amount can compound the financial difficulties minimum wage earners experience daily.  There is no excuse for failing to pay your employees the correct wage."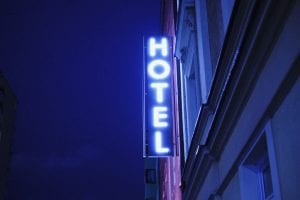 Department officials added, "The Department of Consumer and Business Affairs works with business owners to educate them about the obligations under applicable wage laws and takes complaints from employees who believe their rights are being violated at work."
Oftentimes wage theft is committed against immigrant workers without documentation of U.S. citizenship, and all too commonly occurs in the trades.
"Many people think they don't have (immigration) papers and they take advantage of them.  The law says they have to pay you for work done regardless of your immigration status," said Nelson Gamio, assistant director of a group called The San Diego Workers Center.  Gamio said he knows this firsthand. "I got a job with a remodeling contractor.  He paid me daily and he paid me little.  But when he didn't pay me at all for weeks, I went to Labor Commission and I got my money, not all of it, but half of it…I was impressed by what you can do in this country when a government agency or an organization supports you."
Unfortunately, there are many ways to get around paying laborers, including providing false contact information and indicating employees will be paid at the end of the week but taking off ahead of time without a trace.  Juan Hernadez knows this all too well.  He said, "My mistake was not asking for my money at the end of every day.  It was a four-day job taking out furniture from floors 20 through 24 of a hotel. The (contractor) said he would pay us on Friday, but by Friday he was gone."
Customers will also complain they do not like the work once it's already complete in an effort to get a discount.  "This always happens after you have finished the job.  They see what you are doing from the beginning, if they don't like something, they should tell you right away.  They just say that to save themselves some money at the end of the day," said laborer Marcio Perez.
For many, it's not worth battling it out in court for fear they'll lose thousands in fees or be deported.  And so, many wage theft cases continue to go unreported.
Sources:
Hilton Garden Inn Valencia Owners To Pay $110K In Fines, Back Wages