Progressives are trying to work the middle-ground and have cut some of the renewed DREAM Act's more controversial stipulations.
---
House Democrats are pushing legislation that'd solidify protections for Dreamers and broaden their horizons, too.
On Tuesday, liberals advanced a proposal that that'd provide a pathway to citizenship for more than two million people who were brought to the United States illegally while still children. Collectively, these migrants are known as Dreamers—the beneficiaries of an Obama-era initiative called the Deferred Action for Childhood Arrivals program.
Under DACA, migrants who meet certain criteria—including a clean criminal background and benchmarks for educational attainment or military service—are given temporary, renewable permits to continue working and living in the United States.
While Trump expressed sympathy for Dreamers during his first few months in office, he rescinded DACA in September 2017. Since then, Democrats have made finding a permanent legislative solution among their most high-profile political priorities.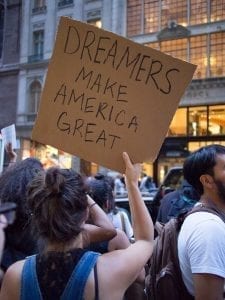 To bolster the bill's chances of passage, POLITICO says that Democrats held a Tuesday-night meeting to rework some of the new DREAM Act's provisions. Moderates advocated the retooled language that would make it harder for migrants to eventually obtain citizenship if they've committed certain types of crimes; likewise, liberals agreed to drop language suggesting that undocumented persons be able to receive federal financial aid.
Lawmakers told POLITICO or otherwise indicated they're pleased with progress and the outcome of Tuesday's talks.
Nevertheless, several politicians lamented concessions granted for the sake of political viability and expediency. Co-sponsor Rep. Luis Correa (D-CA) said he wishes there was more leniency for young people who've had minor legal woes.
"I would have preferred it to be a little more forgiving for people who have made mistakes," Correa said.
But progressives like Washington Rep. Pramila Jayapal are staying optimistic.
"I'm hopeful," Jayapal said. "More hopeful than I have been for several days."
Indeed, progress on DACA and the DREAM Act have been nearly two years in the making. Attempts at immigration reform fell flat during midterms and then culminated in a record-breaking government shutdown, with President Donald Trump refusing to offer any protection for Dreamers without liberals conceding billions for a bigger fence along the U.S.-Mexico border.
Yet Democrats have continued to push ahead with legislative drafts and endeavors, sometimes with the support of sympathetic conservative colleagues. Last week, the House Appropriations Committee approved a spending bill that would let current DACA recipients be employed with and by Congress.
"By allowing DACA recipients to work on Capitol Hill, we are ensuring that they have the opportunity to learn and contribute to our great democracy and represent their communities in Congress," California Democrat Rep. Lucille Roybal-Allard said last week.
The bill also provided pay increases for staffers and interns.
The appropriations bill will likely face final consideration in the House in June.
The DREAM Act's future is less certain—various renditions of the bill have been introduced, defeated or otherwise beaten back for over a decade. And POLITICO suggests that a high-profile, politically charged bill like the DREAM Act 'poses risks for House Democrats on the floor.' Republican leaders have, in the past, used procedural powers to dig into and exposed ideological divides within the progressive caucus.
Sources
Bill allowing Congress to hire Dreamers advances
Dems settle differences, push forward on bill to protect Dreamers
House Democrats introduce bill to offer 2.5 million immigrants chance at permanent status