Ramon Espinoza-Rodriguez says Canyon County let his daughter pay a $1,000 bond, but then kept him locked up for ICE.
---
A recently-filed lawsuit accuses Idaho's Canyon County of illegally holding a man on a federal immigration detainer.
According to Boise State Public Radio, Ramon Espinoza-Rodriguez was arrested in May 2017. Booked on a misdemeanor telephone harassment charge, Espinoza-Rodriguez was taken to Canyon County Jail.
Espinoza-Rodriguez's bail was initially set at $1,000. His daughter, says the lawsuit, contacted a bail bondsman with the intent of making a down payment.
However, the bondsman said it'd be impossible to pay the bond "due to a hold issued by Immigration and Customs Enforcement (ICE)."
Eventually, the woman did manage to pay the amount in full.
But even though Espinoza-Rodriguez's daughter paid a $1,000—which the county accepted–her father wasn't released for over a day. It took numerous phone calls and, eventually, a letter from the family's attorney to secure Espinoza-Rodriguez's release.
Part of the reason Espinoza-Rodriguez was kept behind bars is because the county was enforcing a detainer issued by the U.S. Immigration and Customs Enforcement agency.
ICE, says BSPR, claims to have had "reliable evidence" that Espinoza-Rodriguez is in the United States illegally. Court documents suggest that ICE, acting on that supposed evidence, issued a notice to Canyon County. Its detainer requested that local authorities inform ICE at least 48 hours before Espinoza-Rodriguez would be released so that immigration officials could take him into custody.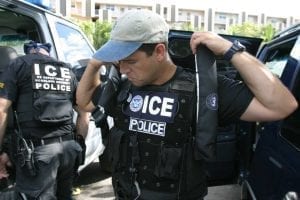 "[Canyon County] is deliberately indifferent to the constitutional rights of persons who are the subject of an immigration detainer or other request by immigration officials to hold an individual beyond the period when they would otherwise be released from criminal custody," the lawsuit states.
Benjamin Stein—another Immigrant Justice-Idaho attorney representing Espinoza-Rodriguez—says his written demands for his client's release were, at first, ignored.
The lawsuit claims that Canyon County has made a habit of circumventing state law to ensure that ICE has access to immigrant inmates. According to the complaint, the county "has a policy, practice or custom of detaining inmates solely due to a suspicion of the inmate's immigration status."
That practice, charges the suit, is so "widespread" that third parties—like local bondsmen—know not to offer concessions when migrants are taken into custody.
Because of the arrest and ICE's intervention, Espinoza-Rodriguez is now facing deportation. His attorney, Maria Andrade, says Espinoza has since petitioned federal officials to stay the order, as deportation would cause "exceptionally unusual hardship" to the his family.
However—as Boise State Public Radio reports—Espinoza-Rodriguez's appeal won't be returned with a decision until at least October.
In the meantime, his suit is requesting unspecified damages for mental suffering, emotional, humiliation and a loss of liberty.
The Idaho Press notes that Espinoza-Rodriguez was born in Mexico but has lived in Idaho for almost thirty years.
His lawsuit is in the third since 2018 which accuses Canyon County of discriminating against migrant detainees.
Sources
Canyon County hit with third lawsuit over immigration holds at the jail
Canyon County hit with third lawsuit over immigration holds at the jail; link to full story
Canyon County Illegally Detained Man Over Immigration Status, Lawsuit Alleges