Juul has been accused in numerous state- and federal-level lawsuits of marketing to minors.
---
The Illinois attorney general's office is suing Juul, repeating oft-made claims that the e-cigarette company intentionally targeted minors in advertising campaigns. And, unlike similar suits filed across the country, Illinois Attorney General Kwame Raoul also alleges that Juul has mispresented e-cigarettes' practical use in helping adult smokers quit traditional tobacco-based products.
In an announcement, Raoul said the suit constitutes but "one part of a multifaceted" endeavor to hold Juul accountable for a recent, significant spike in youth nicotine addiction.
As the Chicago Tribune notes, Raoul is anything but alone. Numerous other attorneys general—along with public interest groups and private advocates—have sued Juul. In November, the attorneys general of California and New York filed their own complaints against the company, similarly alleging that its products were marketed to children. Significantly, the New York suit provided evidence that Juul representatives had directly engaged with high school students at assembles and other campus functions.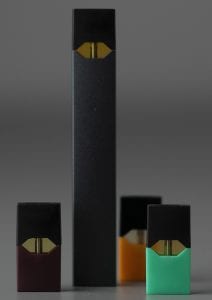 Collectively, they've all condemned Juul for contributing to a drastic uptick in youth smoking rates. While tobacco and nicotine addiction had been on the decline in the United States for decades, rates resurged after about 2016, when Juul and other e-cigarette products amassed a substantial following.
The Illinois suit alleges that Juul "had a central role in in undoing years of work by government agencies and anti-tobacco activists in order to addict a while new generation to nicotine."
The Chicago Tribune states that only 5% of high schoolers reported smoking cigarettes in 2017, down from some 37% in 1997. But with the advent of e-cigarettes, federally-funded surveys show that a rough third of students vaped in the past year.
"In high schools, even middle schools, they are now referring to the restroom as the vaping room," Raoul said at a news conference.
Raoul, like his colleagues, cited Juul's sale of fruit-flavored nicotine pods as evidence of its intent to appeal to youth. While Juul has since halted the U.S. distribution of most flavored pods—and has mostly ceased marketing, too—regulators say the company's done too little, too late. Nevertheless, Juul has repeatedly reaffirmed its 'commitment' to winning back public trust.
"While we have not yet reviewed the complaint, we remain focused on resetting the vapor category in the U.S. and earning the trust of society by working cooperatively with attorneys general, regulators, public health officials, and other stakeholders to combat underage use and convert adult smokers from combustible cigarettes," Juul spokesman Austin Finan said in a statement, adding that the company wants nothing to do with underage users. "Our customer base is the world's 1 billion adult smokers and we do not intend to attract underage users."
Sources
Illinois sues e-cig maker Juul for allegedly targeting minors