An attorney for the families is asking a judge to enter a judgment without trial.
---
An attorney representing the parents of children killed in the 2012 Sandy Hook shooting is seeking a judgment without trial in a lawsuit against conspiracy theorist Alex Jones.
Jones—in the days, weeks and months following the massacre—repeatedly insisted that the shooting was staged. Survivors and parents alike reported harassment from some of Jones's followers, who insulted them on social media and sent death threats.
According to The Hill, the motion was filed by Houston-based attorney Mark Bankston, who's representing the parents of some of the 20 children were killed at Sandy Hook Elementary. Bankston's motion, if allowed, would permit a judge to find and hold Jones and his media outlet, Infowars, liable for damages. A jury would only be used to determine the amount.
The Hill reports that one of Bankston's filings suggested that Jones and Infowars haven't been taken the proceedings seriously. However, The Hill notes that that Bankston declined to offer additional comment when asked.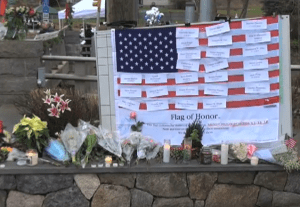 "Defendants have been given ample opportunity to take these lawsuits seriously and obey the rule of law," the filing says. "Yet despite a rotating cast of counsel, Defendants have remained stubborn in their refusal to respect the integrity of proceedings."
In court and during his three-hour-long deposition, Jones repeatedly deflected and dodged questions about which sources he'd consulted when asserting a cover-up at Sandy Hook. He said "I don't remember" 44 times and "I don't know" an additional 51.
An attorney for Jones, T. Wade Jeffries, told The Hill that, right or wrong, his client's statements are protected forms of free speech.
"I do not agree with the blanket statement that my clients have engaged in 'repeated flagrant discovery abuse, intentional spoliation of critical evidence, and bad faith in dilatory tactics,'" he said. "My response to Plaintiff's Motion will address those allegations."
In the meantime, Jones is trying to dismiss another, related lawsuit filed against InfoWars by Neil Heslin, the father of a Sandy Hook victim.
Heslin alleges he was defamed by InfoWars contributor Owen Shroyer shortly after the shooting.
"[Heslin's] claiming that he held his son and saw the bullet hole in his head," Shroyer said on InfoWars. "That is not possible."
Jones, meanwhile, told his audience that "no one died" at Sandy Hook. He first insisted there were no casualties and that everyone on-scene were paid crisis actors. Later, Jones claimed he believed that children had, in fact, died at Sandy Hook but that the circumstances of their deaths were subject to some sort of cover-up.
Perhaps not surprisingly, Jones now maintains that he was suffering from "a form of psychosis" which led him to believe in elaborate conspiracy theories.
Jones now wants Heslin's defamation suit dismissed on grounds of "intentional infliction of emotional distress."
A judgment is expected shortly.
Sources
ALEX JONES FILES TO DISMISS SANDY HOOK LAWSUIT FOR 'INTENTIONAL INFLICTION OF EMOTIONAL DISTRESS' AGAINST HIM
Lawyer seeks judgment without a trial for Alex Jones in Sandy Hook Lawsuit