Filed by Illinois conservatives, the lawsuit alleges that mail-in ballots received after Election Day should be considered "illegal" and invalid.
---
A federal lawsuit filed by Illinois conservatives seeks to invalidate tens of thousands of mail-in ballots submitted ahead of the upcoming general election.
According to The Chicago Tribune, the lawsuit was filed by four-term U.S. Rep. Mike Bost, a nonprofit conservative advocacy organization, and other Republican Party officials, challenges a 2015 state law that allows mail-in ballots to be counted if they are received up to 14 days after Election Day.
The law stipulates that such ballots may only be counted if they were postmarked on or before the final day of voting.
If the ballots are not postmarked, or were mailed after Election Day, then they are ineligible unless they are signed and dated by the voter.
Election Day, notes the Chicago Tribune, is November 8th, with the 14-day provisional period ending on the 22nd.
Bost's lawsuit seeks to discount and invalidate any ballots that are received after November 8th—even mail-in ballots sent from U.S. servicepeople serving overseas.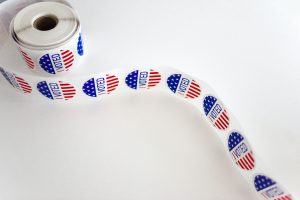 Bost has attempted to establish his legal standing to file the lawsuit by alleging that "illegal" mail-in ballots could jeopardize his re-election and force his re-election campaign to incur unnecessary expenses.
"I risk injury because my margin of victory in my election may be reduced by untimely and illegal ballots. Election results are the best measure for my constituents and me to evaluate the public's opinion about my effectiveness as congressman," Bost said in a court filing.
"A diminished margin of victory will lead to the public perception that my constituents have concerns about my job performance as the representative," Bost said in the filing. "Negative and positive perceptions about my effectiveness influence numerous third parties such as future voters, congressional leadership, donors and potential political opponents."
Bost and his co-plaintiffs, including former Trump elector Susan Sweeney and Republican State Central Committee member Laura Pollastrini, contend that the 2015 act permitting the late counting of mail-in ballots violates the federal law establishing the first Tuesday after the first Monday in November of even-numbered years as Election Day.
"It's Election Day, not Election Week or Election Month," said Tom Fitton, head of Judicial Watch, the conservative group underpinning the litigation.
The Chicago Tribune observes that Bost's lawsuit is among 100 similar complaints filed across the country.
Most of these complaints have been brought by Republicans seeking to restrict mail-in voting, early voting, voter access, and voter registration.
Illinois Attorney General Kwame Raoul, a Democrat, signaled that the state intends to defend itself.
Speaking to the media, Raoul said that Illinois's mail-in voting statutes are "crucial to ensuring the voting rights of millions of Illinoisians who avail themselves of the right to vote by mail."
"Without it," Raoul said, "these voters risk disenfranchisement, despite timely casting their votes, due to delayed mail delivery and/or inconsistent postmarking practices."
The Tribune notes that, during the 2020 presidential election, nearly one-third of the 6.1 million ballots cast across Illinois were submitted and delivered by mail.
Of those 6.1 million ballots, an estimated quarter-million were received and counted after Election Day.
The federal Department of Justice, headed by Democratic Attorney General Merrick Garland, has lent its support to the Illinois Attorney General's Office, issuing a statement reaffirming the legality of mail-in voting.
"Permitting the counting of otherwise valid ballots cast by election day even though they are received thereafter does not violate federal statutes setting the day for federal elections," the Justice Department wrote in its statement. "This practice not only complies with federal law but can be vital in ensuring that military and overseas voters are able to exercise their right to vote."
Sources
Factbox: Democrats and Republicans clash in election lawsuits ahead of U.S. midterms
Federal lawsuit threatens validity of potentially tens of thousands of Illinois mail-in, military ballots
Republicans challenge Illinois law allowing mail-in ballots to be counted after Election Day