You need to have soft skills to get ahead in the workplace. After reading this article, we hope that you now know the skills you need to cultivate to stand out in the job market.
---
Are you a new graduate trying to determine how to get a head start on your career? Or, are you a mid-career professional aiming for a promotion? If you are one of these, you may be wondering what career skills you need to help you boost your career. 
You need to sharpen your industry-related hard skills. But, more crucial to your success are your soft skills. Soft skills are how you interact with others and function in the workplace. Even though they are immeasurable and are not taught in the classroom, they are essential skills that we all must have. Moreover, in the modern work environment, there is a demand for soft skills. So, you need to have soft skills to keep pace with the ever-changing work environment. 
We have concocted a list of skills and talents that will help you get to where you want in your career. Read on to discover the skills you need to develop your career. 
1. Communication Skills
Both verbal and written communication skills are essential in the workplace. This is because they set the tone for how your co-workers perceive you. Verbal and written communication also improves your chances of establishing relationships with workmates. 
Communication skills enhance your performance. When you understand what your managers expect from you, you will perform better. 
Employees are more productive when there is clear communication. If you can express the why, when, what, how, where, and who of a project, you will be a valuable asset. You can polish your communication skills by attending public speaking workshops. 
2. Manage Your Work and Rest Time
To be successful, you need to get enough rest. You need to be alert, as well as mentally available in the workplace. So, think of rest time as a beneficial technique for your work tactic. 
You deserve to rest. Having enough rest will leave you feeling refreshed and ready to handle your assigned tasks. 
If you dedicate most of your time to work, your family and social life will suffer. As such, you need some downtime between work and your family and social life. You need to take a break from your hectic work schedule to focus on your family, yourself, and other priorities. 
If you need help with some of your work projects, you can seek help from CustomEssayOrder services. When you do so, you will get professional help from skilled writers who can handle all types of projects. This will free up your time, and you can focus on other activities that demand your attention. 
3. Analytical and Research Skills
Analytical skills are the skills needed to solve issues. Hiring managers look for employees who can investigate an issue and find an effective solution in an efficient and timely manner. 
Employers desire employees who use clear and logical steps, as well as excellent judgment to look at a problem from different angles before arriving at a decision. When you have analytical skills, you can solve an organization's problems and enhance its success and productivity. 
You use analytical skills when:
Observing,
Detecting patterns,
Brainstorming, 
Analyzing data,
Incorporating new information, and 
Making decisions. 
To further your career, one of the things you can develop is your research skills. You must learn as much as you can about a problem before you solve it. First, you have to collect data before you analyze it. Thus, a crucial analytical skill is having the ability to collect information and research a topic. 
4. Improve Your Learnability
Learnability is one of the most important skills you will need to thrive in the job market.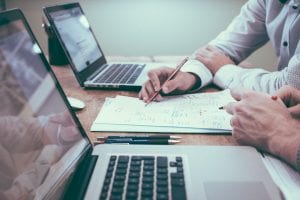 Alvin Toffler once said that in the twenty-first century, "the illiterate are not those who are unable to read and write. The illiterate are the ones who are unable to learn, unlearn, and relearn."
This is because, in the modern workplace, new skills emerge every day, which causes other skills to fade at the same pace. So, success is less about what you know and more about your willingness to adapt your skills by learning new things. 
Learnability is one of the greatest areas of development because you must be able to use new skills and information to respond to the circumstances around you. 
5. Try to be Resilient
Everyone experiences setbacks and disappointments. But, how you handle those failures is what determines the level of your success. Resilience refers to the capacity to bounce back or recover from difficulties. 
When you are resilient, the circumstances around you don't dictate how you act. Rather, you remain focused on your goals, and you know how to prevail in spite of barriers, setbacks, or limited resources. 
Resilience is one of those skills and abilities that will help you thrive in your career. When you are resilient, you are better able to handle the demands placed upon you. This is especially true when those demands require you to deal with a heavy workload and changing priorities. 
6. Work on Your Creativity
Creativity is one of the most valued work-related skills. This is because employers look for employees who can see beyond the present and come up with future possibilities for their organizations. 
Analytical thinkers have a standard way of analyzing situations. You need to stand out from the rest and be a creative thinker. Creative thinkers bring new solutions to problems. As a creative thinker, you need to suggest better solutions to your managers by thinking outside the box. 
Over the decades, creative thinkers such as Bill Gates and Steve Jobs have transformed the technology industry with their creative and inventive solutions. You need to be creative to stand out from your co-workers. 
7. Self-Confidence is Very Important
When it comes to skill development, you need to develop your self-confidence in the workplace. To increase your confidence in the workplace, you need to:
Pay little attention to what other people think about you. Do not expend your energy worrying or wondering about how others perceive you. Focus that energy into striving for your success. 
Know that you are unique. There is only one of you. No one can do what you do in the way you do it. You have unique ideas, thoughts, experiences, and skills. Celebrate what makes you unique. 
Use your own terms to define success. Do not define success by measures that you get from other people. Some people think that success is having a fat bank account, a big house, or a fancy car. But if that is not your idea of success, that is okay, define success on your own terms. 
8. Try to Get Leadership Responsibilities
Leadership skills are one of the most coveted skills on a job application. Displaying leadership skills can help you get gain visibility with hiring managers. This can place you ahead of your competitors and help you secure that much-desired job. 
Bosses are always seeking employees who have leadership potential. They do so because one day, these employees will take over the reins and continue the legacy of the company.
As such, you should try to get leadership responsibilities. One way you can do this is by becoming an internship supervisor. This will give you an opportunity to manage people, and you can learn how to deal with different personalities in the workplace. 
Final Word
You need to have soft skills to get ahead in the workplace. After reading this article, we hope that you now know the skills you need to cultivate to stand out in the job market. Ensure that you cultivate each of these skills, and you will notice that you will start shining at work.