Earlier this year, two inmate escaped when guards fell asleep. Now, an inmate awaiting transport escapes from vehicle after police fall asleep. Is this a new trend?
---
An Argentina man recently got a big break in an unusual way.  Franco Antonio, Alderte, 18, was arrested in Bueno Aires and was being held in a cruiser on charges of aggravated robbery with the use of a firearm as well as the illegal possession of a weapon for civilian use when he seized an opportunity to escape from the vehicle.  The arresting officers had apparently fallen asleep, allowing the criminal to calmly exit without waking them.
The vehicle was parked at a courthouse in the district of Lomas de Zamora and a surveillance camera captured a video of the whole ordeal.  It showed Alderete escaping while still in handcuffs.  The prisoner was being detained by Lieutenant Ángel Rossi and Sergeant Nicolás Cabrera, who were both assigned to hand him over to the inmate transport staff at the court building.  He was scheduled to be transferred to the Sierra Chica Penitentiary in the municipality
Footage showed Alderete opening the passenger door while the police lights were still flickering on the roof.  He then ran and disappeared from view.  Officials were still investigating to determine if Alderete escaped to do the officers' neglect.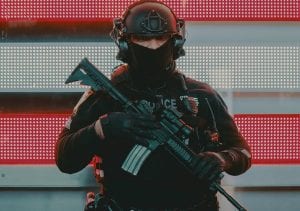 Oddly enough, this isn't the first time this year an inmate ran off after authorities fell asleep.  31-year-old Barret "BJ" Paman recently escaped from the Maui Community Correctional Center, citing that prison guards were sleeping when he and another inmate, Troy Diego, 30, decided to kick in a door and run outside.  The incident occurred on April 14.  Paman eventually turned himself in.
Paman's attorney, John Parker, said, "He voluntarily turned himself in as soon as he felt safe," stating that his client escaped because he feared a riot similar to one that had occurred in March in another area of the facility.
Paman told authorities the two men fled about 1 a.m.  Once outside, they scaled a fence to get onto a roof.  Then they went to a fence by the cemetery and placed clothes on the barbed wire at the top as they climbed over it.  The escape was discovered at approximately 2:30 a.m. when staff noticed the broken door and a head count confirmed Paman and Diego were missing.
In his interview, Paman told a Maui police detective the guards were "passed out cold."
"How did you guys get past the lock to open the door?" the detective asked during his interview to which Paman replied, "We just went and pushed the bottom of the door open, wedge one broom inside and pop the thing right open."
After turning himself in, Paman stated he and Diego had devised their plan within a day and no one else helped them to carry it out.  Diego turned himself in on April 15.
Paman was being held on charges of "burglary, theft, carrying a firearm on a public highway as well as keeping a firearm in an improper place," according to court documents.  Diego was placed behind bars after he was arrested on "charges of theft and unauthorized entry into a motor vehicle."
Sources:
Bizarre moment a prisoner, 18, opens the door of a police car with his foot and escapes after cops fell ASLEEP at a rest stop in Argentina
Hawaii prison escapee says guards were asleep when he ran
'Passed out cold': Inmate who escaped Maui jail says guards slept through jail break