Lil Nas X faces litigation for "Carry On" as "Old Town Road" rises to the top of the charts.
---
Lil Nas X has a new hit that has taken over radio waves worldwide – "Old Town Road" with Billy Ray Cyrus.  The song was an instant hit, which is something that Cyrus freely admits he never saw coming, "How could you ever see this coming?" he said. "To be 16 weeks at No. 1, it's not a thought that even came close to crossing my mind.  But that being said, I just loved this song, and I thought the song just brought people together from all walks of life…It was really just a beautiful thing to be a part of, and I'm so glad that this song came into my life.  It's been a ride like no other.  It's like a magic horse, and it just kept running, man."
However, despite the rapper's rise to superstardom, Lil Nas X has run into some legal trouble over another, lesser-known tune.  He is being sued by California music publisher The Music Force LLC for $25 million.  The publisher contends the rapper stole lyrics from the 1982 Bobby Caldwell song "Carry On."
In the complaint, The Music Force LLC said Lil Nas X "borrowed without permission from Caldwell's R&B song 'Carry On' for his own song with the same title, which he then posted to YouTube and streaming platforms such as Spotify and SoundCloud."  The artist's record label, Sony Music, according to the plaintiff, also "chose not to properly vet the 20-year-old's music because it was far more important to preserve the chance to generate millions of dollars of revenue from his career."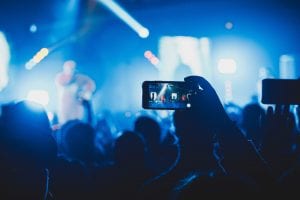 The official music video of Lil Nas X's "Carry On," has been pulled YouTube, but only after it received over 4 million views.  The plaintiff estimates there are still over 85 new, illegal versions of the tune on the same site, so the problem was not eradicated when the original was pulled.
The rapper had not secured his contract with Sony at the time "Carry On" was recorded, and it was put on the internet for marketing and sampling purposes.  However, the plaintiff believes that Sony could have easily connected it with the '80s hit.  The lawsuit is seeking $10 million in compensatory damages, for "confusion in the marketplace," along with at least $15 million in punitive damages for the rapper's "greed and malicious intent."
In a recent interview with National Public Radio, Lil Nas X said, almost ironically, of 'Old Town Road,' "I never want my name to be more hot because of controversy than my music, but it's also bringing attention, so it's like a blessing and a curse."  He added, "I started using the Internet heavily right around the time when memes started to become their own form of entertainment.  I started to get into every side of the Internet around 13-ish.  Not even intentionally, just learning how it works and how to use it to my advantage."  And, he used his skills to generate attention for his musical talent.  The rapper's words almost forecast the controversy he would soon face.
The filing was recorded in Los Angeles federal court and the case is The Music Force LLC v Sony Music Holdings Inc et al, U.S. District Court, Central District of California, No. 19-06430.
Sources:
Billy Ray Cyrus: I'm shocked 'Old Town Road' is a runaway hit
Lil Nas X is sued for $25 million for alleged song theft
Lil Nas X hit with $25 million lawsuit for allegedly sampling song without permission
Wrangler On His Booty: Lil Nas X On The Making And The Magic Of 'Old Town Road'