The family of deceased Boston mob boss James "Whitey" Bulger are filing a wrongful death lawsuit against the government.
Bulger, reports Fox News, was killed inside a West Virginia prison just over a month ago. The circumstances surrounding his death remain uncertain.
Hank Brennan, described by Fox as Bulger's long-time attorney, told the Wall Street Journal that the gangster's family wants answer. Among them are why Bulger was ever even sent to U.S. Penitentiary Hazelton, where he was found beaten to death in an unlocked cell hours after his arrival.
"It's important for the family and the public to know why the prisons decided to wheel an 89-year old man with a history of heart attacks into one of the most dangerous prisons in the country," Brennan told the WSJ.
According to the Journal, Bulger didn't even know he was being sent to Hazelton.
Just before being moved from Florida into the Appalachian facility, Bulger told Brennan that he was being transferred to a prison medical facility.
Whitey's detention records show that, while he was in poor health, his risk level had been downgraded. That move, claims Brenan, was a mistake—he maintains that Bulger complained of 'frequent heart troubles' and appeared sickly in the days leading up to his move.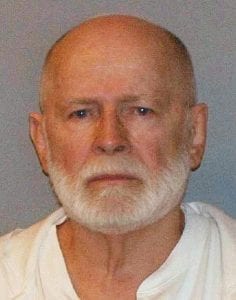 Instead of being sent to an out-of-state infirmary, Bulger wound up in Hazelton.
He was killed a lock stuffed down a sock, his body wrapped in a blood-soaked blanket and left lying in a cell.
Fox says that nobody's been charged in the murder, but there's little doubt as to why Bulger may have been targeted. Aside from being a high-profile Irish mob boss, Bulger was a notorious snitch. Working with law enforcement and federal authorities, he traded information on rival gangs in exchange for the freedom to operate his criminal enterprise with near-impunity.
Tipped off to his impending arrest, Bulger fled Boston in 1994. He spent 16 years as one of America's most wanted fugitive, says Fox, up until his arrest in 2011.
Bulger is alleged to have utilized disguises and false identities during his time on the run. He visited Europe on several occasions and was once spotted at a showing of the 2006 film 'The Departed,' a Scorsese film inspired by himself.
While Bulger's estate is likely seeking damages, so are his victims' families. Along with doling out beatings, ordering assaults and burning businesses, Bulger was complicit in numerous killings.
But Bulger's life seems not to have dissuaded Brennan from pressing ahead with his plan to demand damages from the federal government.
If the Boston Globe's any guide to trust, recompense may be hard to come by. The crime boss owed millions of dollars in restitution before his murder, meaning that any amount acquired by a pay-out or settlement would probably go straight to Bulger's victims.
Sources
Bulger's family set to file wrongful death suit, report says
Whitey Bulger Lawyer Says He Will Sue Over Prison Killing
Whitey Bulger Thought He Was Headed to Hospital Before Death, Lawyer Says
'Whitey' Bulger thought he was headed to hospital before prison murder, family to file lawsuit: report