J&J's Oklahoma settlement is reduced due to a miscalculation.
---
Cleveland County District Judge Thad Balkman, a Republican, recently ruled Johnson & Johnson (J&J) must pay out $465 million to the state of Oklahoma for fueling the opioid epidemic through deceptive marketing.  This is less than the originally determined amount of $572 million.  Balkman's decision to reduce the fee occurred during the first case to go to trial again J&J of 2,700 total and came after he agreed with the company that he had made "a math error."
J&J said it is appealing this decision and that the finding of any liability was "neither supported by the facts nor the law."  Oklahoma Attorney General Mike Hunter said that office is reviewing Balkman's decision.
Balkman ruled in August that Oklahoma "had proven that J&J engaged in misleading marketing about the benefits of painkillers."  During the trial, Oklahoma mental health commissioner Terri White, said J&J's insistence that it has zero responsibility for the state's opioid crisis "offends my decency."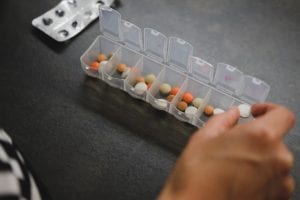 Under cross examination White shamed the company, stating, "I feel like you all have repeatedly, through this trial, tried to downplay your role in all of the other products that were opioid products for which you provided the ingredients.  And I absolutely think that cannot go unnoticed.  That is part of the story but make no mistake I do believe Johnson & Johnson and Janssen oversupplied their own products as well."
J&J's attorney, John Sparks, fired back, "For four weeks, we have heard the state make vague, one-size-fits-all claims without any evidence that the company caused opioid abuse or misuse in Oklahoma.  Facts matter, and as we have said from the beginning and look forward to showing again in our case, the company's marketing was squarely within the regulations, and it did everything a responsible manufacturer and seller of opioid pain medications should do."
Originally, Hunter had asked that J&J pay $17 billion to help fund addiction treatment and other services needed to repair damage from the opioid epidemic over the next thirty years.  Yet, given the state's estimates, the award would only cover one year of such programs, so the measure would be largely ineffective.  J&J, on the other hand, said it should receive a "$355 million credit, reflecting pre-trial settlements by the drugmakers Purdue Pharma LP and Teva Pharmaceutical Industries Ltd."  To this, Balkman responded that the state does not allow for such credits.
As it prepares to face a slew of additional litigation, J&J has opted to join forces with four other companies in proposing a $48 billion settlement amount that would resolve all of the pending opioid cases.  The amount J&J would pay out is $4 billion.  If the settlement is approved, this would also allow the company to resolve the numerous non-opioid product liability lawsuits it is also facing, including litigation concerning cancer-causing ingredients in its baby powder.
Many of the plaintiffs and their attorneys are opposing a blanket settlement.  They believe they would fair better if J&J and the others allegedly responsible for the epidemic are tried in court.  According to the U.S. Centers for Disease Control and Prevention (CDC), "Opioids were involved in almost 400,000 overdose deaths from 1999 to 2017."
Sources:
Oklahoma Judge Reduces Johnson & Johnson Opioid Payout to $465 Million
Oklahoma's Case Against Johnson & Johnson Moves into Defense Phase