Trump's revision to the longstanding "public charge" rule would've punished immigrants who not only use public resources, but are "more likely than not" to.
---
A federal judge in Chicago has blocked President Trump's "public charge" order from taking effect.
According to the Chicago Tribune, the decision was made mere hours before the rule would've begun being enforced. It's the latest in a years-long series of legal rulings challenging the White House's controversial immigration directives.
The "public charge" initiative, though, was a bit different. It was  Trumpian re-working of a decades-old rule, which allows immigration officials to reject visa and residency requests for migrants taking government benefits.
However, activists were quick to protest, in large part because "public benefits" is such an encompassing category. Not only did Trump want to ensure that migrants taking cash assistance were barred from permanent residency, he also wanted to block Medicaid recipients and pregnant women taking federal subsidies.
Furthermore, the new rules included some hypothetical stipulations. Under the order's purview, someone deemed "more likely than not" to receive public benefits for more than 12 months in a 36-month period could be deemed ineligible for a work permit, permanent residency or citizenship.
Along with participation in a federal program, "public charges" could also include older migrants, unemployed migrants and individuals with little English-language proficiency.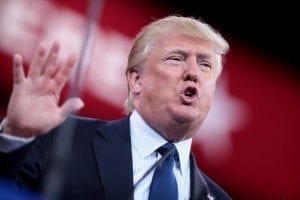 "The Trump administration is taking action to help ensure that non-citizens in this country are self-sufficient and not a strain on public resources," the White House said.
No matter the president's logic, immigration activists and local government coalitions sued, saying the public charge rule is unreasonable. Cook County and the Illinois Coalition for Immigrant and Refugee Rights contended that the rule "would have imposed real and irreparable harm to Cook County and the people who call it home."
Cook County State Attorney Kim Foxx said that Monday's decision is a victory, even if the decision is only temporary.
"Tonight's ruling is a victory for immigrant families," Foxx said. "No one should live in fear and forgo public resources to access food, housing and health care. I'm grateful to the women and men of Cook County State's attorney's office and our partners in this suit for their commitment to stand up to these discriminatory attacks."
In granting the injunction, Judge Gary Feinerman wrote, "The balance of harms and the public interest favor the grant of a preliminary injunction and a stay."
Other judges in other states have also ruled against the public charge rule in the past week. U.S. District Judge George Daniels, based in New York, said the Trump administration's revival and revision of existing law had "no logic." Daniels also said that allowing the policy to go into effect immediately, and without being significantly reworked, would have an impact on "law-abiding residents who have come to this country to seek a better life."
"Overnight, the rule will expose individuals to economic insecurity, health instability, denial of their path to citizenship and potential deportation," Daniels said. "It is a rule that will punish individuals for their receipt of benefits provided by our government, and discourages them from lawfully receiving available assistance intended to aid them in becoming contributing members of society."
Sources
Federal judge in Chicago stops Trump administration rule aimed at denying green cards to immigrants on public benefits
Lawsuits around U.S. seek to block Trump's public charge rule