Judge Christopher Murray said "Monday morning quarterbacking" isn't the responsibility of courts.
---
A Michigan judge has declared that even if Gov. Gretchen Whitmer's stay-at-home order does "temporary harm" to residents' constitutional rights, that harm doesn't outweigh the risk of coronavirus left uncontrolled.
As LegalReader reported earlier this month, five Michigan residents had filed a lawsuit against Whitmer's directive. The plaintiffs include Steve Martinko, owner of an Oakland County landscaping business, and several others whose companies and lifestyles had been impacted by the order.
Despite ceding the necessity of Whitmer's decision, the lawsuit alleged that a "mandatory quarantine," coupled with in-state travel restrictions, violate Michiganders' due process rights.
Alongside Gov. Whitmer the lawsuit named as co-defendants Michigan Attorney General Dana Nessel and Department of Natural Resources Director Daniel Eichinger.
But on Wednesday, Michigan Court of Claims Judge Christopher Murray sided with the state.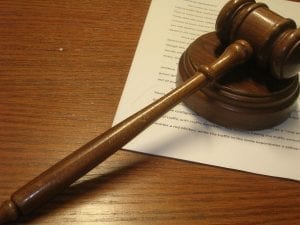 "Although the Court is painfully aware of the difficulties of living under the restrictions of these executive orders, those difficulties are temporary, while to those who contract the virus and cannot recover (and to their family members and friends," it is all too permanent," Murray wrote in his opinion.
The Hill notes that Gov. Whitmer's shelter-in-place order was issued on March 24th. It was initially set to expire mid-April, and has since been extended twice—once to the end of the month, and then again until May 15th.
While Whitmer hasn't ruled out the possibility of social restrictions past mid-May, Michigan's Republican-dominated Congress has voiced a willingness to resist any more mandates made without its approval.
Michigan has made national headlines for the scope and visibility of resident-led protests against shelter-in-place orders. Many criticized Whitmer's prohibitions on in-store seed sales and motorboat use.
In his judgment, Murray suggested that the Michiganders' due process rights are, at least in part, counterbalanced by other people's rights to health and happiness.
"Our fellow residents have an interest to remain unharmed by a highly communicable and deadly disease," Murray wrote. "And since the state entered the Union in 1837, it has had the broad power to act for the public health of the entire state when faced with a public crisis."
Murray also found that the lawsuit's suggestion that Michigan only quarantine people who are already sick—or impose county-by-county travel restrictions, rather than a state-wide prohibition—isn't a task well-suited for the judiciary.
"Monday morning quarterbacking is the role of sports fans, not courts reviewing the factual basis supporting executive action to protect the public health," Murray said. "Instead, it is the role of the executive and legislative branches to determine what steps are necessary when faced with a public health crisis."
Following Murray's decision, Michigan Attorney General Dana Nessel issued a statement emphasizing Michigan's responsibility to protect its sick and vulnerable.
"The primary goal of the Stay Home, Stay Safe order has always been to protect human life," Nessel said.
Interestingly, polling cited by The Hill shows that, no matter the scope of recent protests, about 60% of Michigan residents approve of Whitmer's response to coronavirus.
Sources
Judge rules Michigan stay-at-home order doesn't infringe on constitutional rights
Michigan court rules governor's stay-at-home order does not violate constitutional rights
Michigan Residents Sue Gov. Gretchen Whitmer on Stay-at-Home Order
Poll: Michigan residents favor governor's COVID-19 handling over Trump's