Conservatives say Democrats waited too long for their request to be expedited.
---
A federal judge has stymied Democrats' efforts to speed up a lawsuit which demands President Donald Trump's tax returns.
According to POLITICO, the decision was made by Washington, D.C., District Court Judge Trevor McFadden. Democrats had hoped McFadden might grant their request to expedite consideration of the case without moving it to trial.
While McFadden appeared partial to the liberals' arguments, he said the case's intrigue warrants caution.
"This is no ordinary case, but the weighty constitutional issues and political ramifications it presents militate in favor of caution and deliberation, not haste," McFadden said. "This case presents novel and complex questions about the privileges and authority of all three branches of the federal government."
"It may be appropriate to expedite this matter at some point," McFadded added, "but not now."
The lawsuit, notes The Hill¸ was filed by the Democrat-controlled House Ways and Means Committee last month. The committee is attempting to obtain a court order mandating the Treasury Department and Internal Revenue Service comply with subpoenas seeking all of President Trump's personal and business tax returns for the past six years.
Earlier this month, writes The Hill, the committee filed a motion for a summary judgment. It also asked McFadden to fast-track the case.
Democrats say time is of the essence, because the current Congress ends in January 2021—meaning that any changes in representation, politics or priorities could mean the suit dies an untimely end.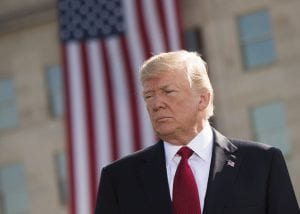 However, the Trump administration has fired back with its own set of arguments and accusations. White House attorneys have repeatedly challenged Democrats' timing, asking why such a supposedly urgent suit had been filed earlier.
McFadden said that "the Court does not fault the Committee for its time and efforts negotiating with the Administration before suing, but it is not clear why only now the Committee asks for expedited consideration of this matter."
McFadden also noted that the whatever arguments the administration plans to raise in its motion to dismiss the lawsuit "seem unlikely to be so trivial as to justify a rush to the merits of the case."
And with other lawsuits over Trump's tax returns lingering in other courts, McFadden believes it's possible that the case could change radically in the near future.
"The Committee has not justified its request to bypass the motion to dismiss stage and skip ahead to summary judgment," McFadden wrote. "Indeed, by the time summary judgment is appropriate, this case might look very different. There may be new caselaw, new facts, and new parties."
The Trump administration is also actively litigation against Ways and Means Chairman Richard Neal (D-MA), who's hoping to use a recently-passed New York law to obtain the president's state tax returns.
Sources
Judge denies Democrats' request to speed up Trump tax return lawsuit
Judge rejects Democrats' bid to speed lawsuit for Trump's tax returns