A federal judge dismissed a lawsuit brought by survivors of February's Parkland school shooting, saying neither the school district nor the local sheriff's office had a constitutional duty to protect students from being massacred.
The decision, writes the New York Times, ends a suit filed by 15 students who claim to have been traumatized by the Valentine's Day killings at Marjory Stoneman Douglas High School. Suing Broward County, its sheriff, their superintendent and a school resource officer, the plaintiffs say authorities' failure to act violated their 14th Amendment rights to due process.
Prosecutors are charging Nikolas Cruz with the attack, which killed 17, and are seeking the death penalty.
In a ruling issued last week, U.S. District Judge Beth Bloom wrote that the school and Broward's sheriff's department have no constitutional obligation to protect students from Cruz.
While the 14th Amendment dictates that the state cannot deprive any person of life, liberty or property without due process of law, Bloom said the amendment typically protects people from government actions rather than those wrought by third parties.
Bloom, says CNN, acknowledged in her ruling that the 14th Amendment obliges protection for persons in government custody, such as prisoners. And even though most students are legally obliged to attend school, Bloom drew a distinction between being incarcerated and in education.
"Viewed properly, the claim arises from the actions of Cruz, a third party, and not a state actor," she wrote. "Thus, the critical question the court analyzes is whether defendants had a constitutional duty to protect plaintiffs from the actions of Cruz.
" … For such a duty to exist on the part of defendants, plaintiffs would have to be considered to be in custody," Bloom opined.
Interestingly, Bloom's ruling was announced on December 12th—the same day that county judge Patti Englander Henning came to the opposite conclusion, deciding that a nearby sheriff's deputy should have confronted Cruz.
The New York Times notes that police officers, 'in fact, generally are not under any legal obligation to protect citizens who are not in their custody.'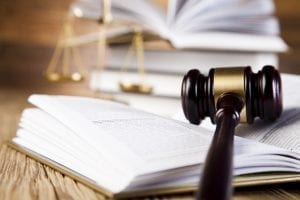 "Neither the Constitution, nor state law, impose a general duty upon police officers or other governmental officials to protect individual persons from harm—even when they know the harm will occur," University of Florida School of Law Professor Darren L. Hutchinson told the Times. "Police can watch someone attack you, refuse to intervene and not violate the Constitution."
Considering the custody exception, Hutchinson said, "Courts have rejected the argument that students are in custody of school officials while they are on campus. Custody is narrowly confined to situations where a person loses his or her freedom to move freely and seek assistance on their own—such as prisons, jails, or mental institutions."
Exceptions exist for figures such as school crossing guards, who could be held liable for allowing a child to be run over while texting on a smartphone or otherwise improperly distracted. Hutchinson says that's because crossing guards have a "special relationship" with the children under their watch and can be held liable for injury which becomes their wards.
The students had argued that an armed school resource officer—who heard gunshots coming from the school but leaped for cover rather than running inside—had a similarly "special relationship" with students, as his specific assignment was to protect them from harm.
Hutchinson seemed to suggest there were some ways to make that argument work, but said it'd be unlikely for precedent to e overturned.
The students are expected to launch an appeal.
Sources
Judge rejects Parkland lawsuit, saying failure to stop shooting didn't violate 14th Amendment rights
Officers Had No Duty to Protect Students in Parkland Massacre, Judge Rules