Judge voluntarily gives up his law license after stalking girlfriend. Former associates describe him as a "regular hard-working guy."
---
A former U.S. attorney for the Southern District of Georgia surrendered his law license after being convicted on two counts of aggravated stalking for harassing a former girlfriend.  The Georgia Supreme Court accepted the petition by Richard Scott Thompson in a May opinion.  Thompson was a U.S. attorney from 2001 to 2004, and he resigned from his post before the Department of Justice's Office of Professional Responsibility concluded that he had "used his position to help a political ally by investigating the ally's opponent."
The allegations stemmed from a case involving Senator Donnie Lavan Streat, D-Nicholls, who was found not guilty of state corruption allegations in 2002, but Thompson said he was going to open a federal investigation.  After this discussion, Streat's attorney filed a complaint alleging Thompson was trying to aid a Republican friend of his who was running for Streat's seat.
Thompson resigned after his arrest in 2017 for allegedly stalking his former girlfriend, Mary Ella Kent, and later was arrested after a judge revoked bond on the charge.  A deputy sheriff saw Thompson driving his Volvo along South Thompson Road near Vidalia, where he formerly had a law office.  An arrest warrant had already been issued, so the deputy followed him until the judge parked his vehicle at a dead end.  He then put a .22-caliber Ruger handgun to his head as the deputy approached.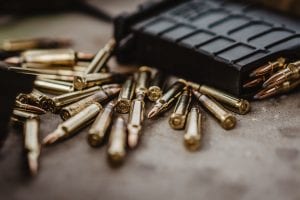 The deputy ordered Thompson to drop the weapon and step out of the car, and the judge put the gun to this head one more time before stepping out.  The officer found a slew of suicide notes inside.
Thompson had been accused of "parking outside the girlfriend's house, following her in his car, nearly ramming her vehicle with his car, and knocking on her door," according to records in the case.  He also was accused of "sending disparaging emails to Kent and threatening legal action against her."
Thompson was sentenced in February to three years in prison and seventeen years of probation.  During that period, he is barred from contacting his former girlfriend, her husband and their attorney.  He is also banned from his hometown of Vidalia and the Brunswick Judicial Circuit during his probation.  He was granted first offender status.
The recent opinion stated, "Having reviewed the record, we agree to accept Thompson's petition for the voluntary surrender of his license, which is tantamount to disbarment…Accordingly, the name of  Richard Scott Thompson is hereby removed from the rolls of persons entitled to practice law in the State of Georgia.  Thompson is reminded of his duties under Bar Rule 4-219 (b). Voluntary surrender of license accepted."
Those who know him best are still in shock over his rapid fall from grace.  They could have never seen it coming.
"He had a lot going for him, just a regular hard-working guy," said former U.S. Rep. Jack Kingston.  Thompson managed Kingston's first campaign for Congress in 1992. "He had no bad habits, didn't drink, didn't smoke."
Sources:
Former US attorney gives up his law license after he's convicted for stalking
Stalking charges put former U.S. attorney's career, freedom on the line
S19Y1076. IN THE MATTER OF RICHARD SCOTT THOMPSON.