Justice Lawrence Knipel of Brooklyn recently dismissed a lawsuit filed by a handful of mothers over the recent measles vaccination order.
---
There's been a lot of talk about measles in the news lately, especially pertaining to the numerous outbreaks taking place across the country. Amidst the outbreaks, some areas have begun enforcing mandatory vaccination rules, and not everyone is happy about that. In fact, some mothers have filed lawsuits over what they're calling unfair mandates. One such case was filed in Kings County Supreme Court by five mothers claiming their city's actions were "disproportionate to the threat posed by measles and failed to take into account individual autonomy, informed consent and free exercise of religion." However, Justice Lawrence Knipel, a Brooklyn judge, dismissed the case and "upheld the city Health Department's emergency order requiring individuals in certain areas in or bordering Williamsburg to receive vaccination against measles or pay a fine."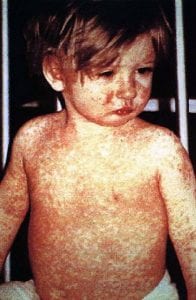 According to the city Health Department, there have been 359 confirmed cases of measles. Of those 359 cases, 294 are from Williamsburg and have affected young children in "Brooklyn's Orthodox Jewish communities particularly hard." When commenting on his decision to dismiss the case, Knipel said:
"The unvarnished truth is that these diagnoses represent the most significant spike in incidences of measles in the United States in many years and that the Williamsburg section of Brooklyn is at its epicenter…A fireman need not obtain the informed consent of the owner before extinguishing a house fire. Vaccination is known to extinguish the fire of contagion."
It should be noted that Knipel did write that the health department "clarified its order to note that it will impose civil penalties for violators but won't pursue criminal charges" and notes that the order doesn't "require forced vaccinations."
Knipel's decision now paves the way for the continued enforcement of the order, and already three civil summonses have been issued, according to the Health Department. When commenting on the matter, Health Commissioner Dr. Oxiris Barbot said,
"This decision will protect New Yorkers from a very dangerous infection with potentially fatal consequences. We did not take the emergency order lightly. It was a dramatic response to a serious problem."
What does it mean to receive a summons, though? Well, according to the Health Department, anyone who receives a summons must "report to a hearing where a hearing officer could fine the person $1,000. Failure to appear will cost $2,000."
It's not only parents trying to get out of the recent order, though? Entire schools have ignored the order, resulting in a number of schools being closed for failing to comply with the Health Department's order.
What do you think? With so many reports of outbreaks around the country, do orders like this one make it easier to contain a potentially deadly situation?
Sources:
City prevails in lawsuit challenging measles vaccination order