Justice Department attorneys have posited the trial as a case for the "future of the internet."
---
Federal prosecutors have opened a landmark antitrust trial against Google, arguing that the company has spent years intentionally stifling competition and creating indomitable monopoles in the search engine and online advertising industries.
According to CNN, both sides presented their opening remarks before a federal judge in Washington, D.C., on Tuesday.
Attorneys for the U.S. Department of Justice broadly asserted that Google's negotiation of "exclusive contracts" with wireless carriers and cell phone manufacturers helped cement its position, making it all-but-impossible for rivals to claim any significant space in the market.
"This case is about the future of the internet, and whether Google's search engine will ever face meaningful competition," Justice Department lawyer Kenneth Dintzer told the court, noting that Google pays more than $10 billion per year to Apple and other companies to ensure that its own browser is the default option on most cell phones.
Dintzer and other Justice Department attorneys also said that Google contracts with Android device manufacturers, which pre-install different Google products on their phones.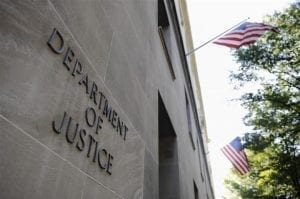 These deals collectively help Google collect vast amounts of consumer information, which it uses to continuously reinforce its market position.
The U.S. government says that Google's monopolistic tendencies have other consequences, especially relating to consumer choice and consumer privacy.
"This feedback loop, this wheel has been turning for 12 years, and it always turns to Google's advantage," Dintzer said.
Google, though, insists that consumers and companies both believe that Google products are superior to those offered by its competition.
"Apple repeatedly chose Google as the default because Apple believed it was the best experience for users," Google attorney John Schmidtlein said in opening statements.
Schmidtlein also compared the case to turn-of-the-century litigation against Microsoft, while also criticizing Microsoft's search engine, Bing, as an inadequate competitor.
"Google competed on the merits to win preinstallation and default status," Schmidtlein said.
"The evidence will show that Microsoft's Bing search engine failed to win customers because Microsoft did not invest [and] did not innovate," he added. "At every critical juncture, the evidence will show that they were beaten in the market."
In a somewhat more novel argument, Schmidtlein also suggested that, were Google's practices to be deemed anticompetitive, Apple and other large companies would only stand to benefit.
"Google's Android agreements are important components of a business model that has sustained the most important competitor to Apple for mobile devices in the United Staes," he said.
Nevertheless, the Justice Department says that it will present evidence showing that Google knew that it was violating federal law, and that the company "hid and destroyed documents because they knew they were violating the antitrust laws."
"The harm from Google contracts affects every phone and computer in the country," Dintzer told the court.
Sources
Google's search engine dominance is at the center of the biggest US antitrust trial in decades
Landmark Google trial opens with sweeping DOJ accusations of illegal monopolization