Some e-cigarette proponents warn that vaping has serious benefits for adult smokers.
---
As vaping-related illnesses mount across the country, Juul Labs Inc. has announced the departure of its CEO and a decision to stop advertising its electronic cigarettes in the United States.
The Associated Press suggests that Juul, by far the nation's largest e-cigarette manufacturer, could be fighting for survival. A recent rash of illnesses and deaths—all tentatively linked to vaping—have provoked unprecedent scrutiny from state officials and federal regulators.
While neither Juul nor any of its competitors have been linked to outbreak, the company doesn't seem keen to put up a fight. Earlier this month, a Juul spokesperson said they won't fight a Trump administration proposal to ban flavored e-cigarette pods.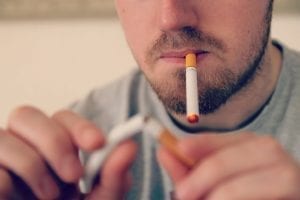 And if it seems bad for e-cigarettes on the federal level, it's even worse in some states. Michigan, New York and Rhode Island have all issued blanket bans on flavor pods. And Massachusetts has taken its own initiative a step further, announcing an economic embargo against all vape-related products for the next four months.
Kenneth Warner, a professor at the University of Michigan's School of Public Health, says the backlash may be too sudden, too soon.
"I think this rush to judgment is extraordinary, and we might be looking at the demise of vaping," Warner said.
According to The Associated Press, Warner and some other experts believe vaping may not be all bad. Despite its inherent risks, vaping can help adult users give up combustible, tobacco-based cigarettes.
Nevertheless, Warner told TAP that Juul made "enormous mistakes" in its early days, appearing to market its products to under-age teens. Advertisements frequently featured young models, bright colors and fruity flavors.
And it's youth vaping, more than anything, that's prompted regulators and legislators to act. Dr. David Kessler, the former commissioner of the Food and Drug Administration, said rising rates of nicotine abuse among young adults and adolescents suggest that e-cigarettes' benefits are outweighed by risk.
"In some ways," Kessler said, "the last several years has provided a record where it's hard to see that these products could ever meet the 'protection of public health standard.' And if they can't met that standard, they can't be marketed."
Kessler obviously isn't the only skeptic, even though Juul has tried to re-orient itself as a company geared toward middle-age smokers trying to chuck tobacco.
Acting FDA Commissioner Ned Sharpless shares the same beliefs as his predecessor, saying on Wednesday that few people should be using e-cigarettes.
"We really don't think anyone should be using e-cigarettes," Sharpless said, "except perhaps a person who is using it instead of a combustible cigarette."
"In retrospect," Sharpless added, "the FDA should have acted sooner.
"We're going to catch up."
Sources
Juul Replaces Its C.E.O. With a Tobacco Executive