The lawsuit seeks an injunction against elements of a recently-enacted law, which prohibits the prescription of puberty blockers and hormone therapy to transgender children.
---
Kentucky families have filed a lawsuit challenging the state's recently-enacted ban on gender-affirming care for transgender youth, claiming that the law violates parents' right to seek appropriate treatment for their children.
According to The Associated Press, the lawsuit asks the court to block provisions of the ban, which was passed by the Republican-controlled state legislature in 2023.
The lawsuit, notes The Associated Press, was filed by the American Civil Liberties Union of Kentucky and the National Center for Lesbian Rights on behalf of seven local families.
"Under the Constitution, trans youth in Kentucky have the right to medically necessary care," said Corey Shapiro, legal director for the American Civil Liberties Union of Kentucky. "We are filing litigation today to protect against this imminent threat to their well-being and make certain they can thrive by continuing to receive medical care."
The Associated Press observes that the lawsuit is the latest effort to push back against strict laws limiting how, when, and where transgender children can receive so-called "gender affirming care."
Most attempts to restrict gender-affirming care have been proposed and passed in Republican-dominated states, including Kentucky.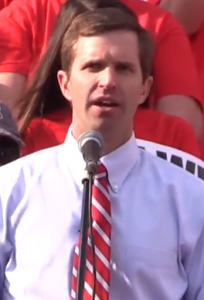 This most recent claim, adds The Associated Press, challenges sections of a law prohibiting the prescription of puberty blockers and hormone therapy for transgender children.
Critics of gender-affirming care argue that the use of such treatments can curb children's natural development, permanently changing their bodies and making it difficult to de-transition.
While Kentucky Gov. Andy Beshear, a Democrat, vetoed the ban, his veto was overridden by Republican lawmakers.
While the ban has yet to take effect, the plaintiff families fear that it could hinder parents' right to obtain appropriate treatment for their children.
"If the ban goes into effect, it will have devastating consequences for the transgender plaintiffs, their families and other transgender adolescents and their families in Kentucky," the lawsuit alleges. "The ban will deprive the transgender plaintiffs and other transgender adolescents of medical care that their doctors and parents agree is medically necessary."
During a rally protesting the Legislature's vote to override Gov. Beshear's veto, several transgender teenagers and advocates explained how restricted access to gender-affirming care could impact their lives.
"People don't even understand how this feels," 16-year-old Hazel Hardesty told The Associated Press in a separate interview. "Going through the wrong puberty, every day your body is a little bit farther [sic] from what feels like you. And eventually, you don't even recognize yourself in the mirror."
However, Kentucky Republicans—including Rep. Shane Baker—say that the ban is necessary, because it protects children from making decisions they might regret later in life.
"We cannot allow people to continue down the path of fantasy," Rep. Baker said, "to where they're going to end up 10, 20, 30 years down the road and find themselves miserable from decisions they made when they were young."
Sources
ACLU of Kentucky announces lawsuit over 'anti-trans' law
Suit targets Kentucky ban on gender-affirming care for youth