Kimberly Teehee, former Senior Policy Advisor for Native American Affairs, goes to Washington (again), this time as the Cherokee Nation's first delegate to Congress.
---
In 1835, the Treaty of New Echota set the stage for the removal of the Cherokee people from their homeland in the southeastern United States. The result was the Trail of Tears, one of the lowest points in U.S. history. About 100,000 Indigenous people from several First Nations were forced to march over a thousand miles to land west of the Mississippi River, with a quarter of the people dying on the way, buried in unmarked graves. The Cherokee people resisted every way they could, but even assassinating the leaders who signed the treaty couldn't erase it. However, buried in the treaty language was a clause that allowed for the Cherokee Nation to send one non-voting delegate to Congress. That position has never been filled, until now. On August 30, Kimberly Teehee went to Washington (again), this time as the first Cherokee congressional delegate.
Teehee arrived in the Capitol with significant political experience already under her belt. In the 1980s, she interned for Wilma Mankiller, the first female chief of the Cherokee nation. Mankiller led during a resurgence of tribal soverignty, becoming one of the most effective chiefs in modern times. Teehee accompanied Mankiller to meetings and during travel, did research, and benefited mightily from Mankiller's advice to one day obtain a law degree. Native issues were being heard in federal courts, with far-reaching effects on the tribes. Teehee wanted to have a direct, positive impact on these matters and the future of the Cherokee people.
Teehee graduated cum laude from Northeastern State University in 1991 with a Bachelor's degree in political science, and went on to get her JD from the University of Iowa, College of Law. She went on to serve as the Democratic National Committee's first deputy director of Native American Outreach, and as Director of Native American Outreach for Bill Clinton's inauguration, followed with a senior advisory role to Congressman Dan Kildee (D-MI), co-chair of the House Native American Caucus.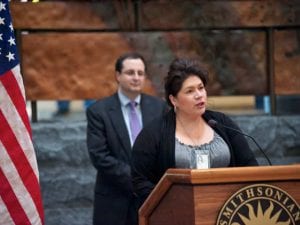 As Senior Policy Advisor for Native American Affairs in the White House Domestic Policy Council under President Obama, Kimberly Teehee contributed significantly to the reauthorization of the Violence Against Women Act and to support the signing of the Tribal Law and Order Act, both of which address the ability of Tribal nations to protect themselves and their people against crime and violence. She left the Administration in 2012 to work for Mapetsi Policy Group and is now Vice President of Government Relations for Cherokee Nation Businesses, and Director of Government Relations for the Cherokee Nation.
Although Teehee is known for her service in the Obama administration, it is her ability to reach across the aisle and her close working relationship with Oklahoma Republican Congressmen Markwayne Mullin (of the Cherokee Nation) and Tom Cole (of the Chickasaw Nation) that inspired Chuck Hoskin Jr., the newly elected Chief of the Cherokee Nation, to appoint Teehee as the first Cherokee delegate. Pending Congressional approval, Teehee will fill a non-voting seat similar to other delegates from Washington D.C., Puerto Rico, American Samoa, and Guam. She will be able to serve and vote in committees and advocate not only for Cherokee interests but on matters of importance for all of Indian Country.
Joining Deb Haaland (D-NM, of the Pueblo of Laguna) and Sharice Davids (D-KS, of the Ho-Chunk Nation), Teehee is expected to be a strong voice for Native rights. It's a voice that her ancestors paid dearly for, in their blood, sweat, and tears. The time is ripe for Kimberly Teehee to claim a seat left vacant for far too long. In this time of climate crisis, rampant xenophobia, chaotic and corrupt Executive leadership, and a frightening future, Teehee's advocacy is needed, inside Native communities and for all of us.
Related: Conservatives Take Aim at Native Rights
Sources: