Concerns over potential E. coli contamination prompted King Arthur Flour to expand upon a recent flour recall.
---
A recall for King Arthur Flour was recently expanded over fears of potential E. coli contamination. According to the Food & Drug Administration (FDA), King Arthur Flour is expanding the voluntary recall of 5-pound and 25-pound bags of Unbleached All-Purpose Flour because E. coli may have been found in certain samples.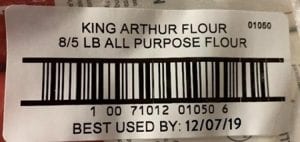 The original recall was issued back on June 13, 2019, and included about 114,000 5-pound bags of King Arthur flour that was milled at ADM Milling in Buffalo, New York. The flour in the initial recall was distributed to stores nationwide and was also available in King Arthur's catalog and on its website.
When commenting on the company's decision to expand the recall, Gwen Adams, a spokesperson for King Arthur Flour said:
"Our consistent responsibility to transparency and our customers hasn't changed, and so we've expanded our June voluntary recall to include any additional lots that might have any association with those two lots."
It's important to note that ADM Milling has also been involved in another recent recall. That recall involved "5-pound bags of Baker's Corner All Purpose Flour sold at select Aldi stores in 11 states over concerns of E. coli contamination."
According to the notice from King Arthur Flour and the FDA, the expanded recall includes the following 5-pound bags of flour with their Lot Codes:
12/04/19 L18A04A
12/05/19 L18A05A, L18A05B, L18A05C
12/09/19 L18A09B
12/10/19 L18A10A
12/13/19 L18A13B, L18A13C
12/20/19 L18A20A, L18A20B, L18A20C
12/21/19 L18A21A
12/27/19 L18A27A, L18A27B, L18A27C
12/28/19 L18A28A
01/02/20 A19A02B, A19A02C
01/03/20 A19A03A, A19A03B, A19A03C
01/05/20 A19A05A, A19A05B
01/07/20 A19A07B, A19A07C
01/08/20 A19A08B
01/09/20 A19A09B
01/10/20 A19A10B
01/12/20 A19A12A
01/14/20 A19A14A, A19A14B, A19A14C
01/15/20 A19A15A, A19A15B
If anyone has the recalled flour in their homes, it should either be disposed of or returned for a refund. If you have questions or concerns about the recall, contact the King Arthur Flour Consumer Hotline at 866-797-9178.
Sources:
King Arthur's Flour expands unbleached flour recall over E. coli concerns